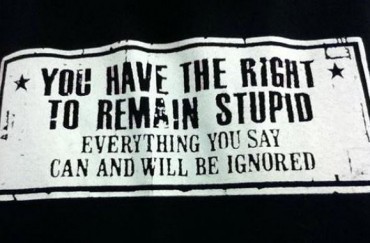 The geniuses who wanted to change the name of a building from "Lynch" to something with … "less of a racial connotation" are now disgruntled with Lebanon Valley College's reaction to their demands "for greater equality on the campus."
Lebanon Valley College President Lewis Thayne on Thursday addressed the list of demands that were presented by students back in December.
"Not good enough," some of the students countered while holding signs that read "Forgotten Student Union" and "We weren't heard and we aren't happy."
But the "Forgotten Students" refused to answer any media questions, directing queries to their blog (which actually uses the name "Forgotten Students United").
"They implied," PennLive reports, "a desire to control the message after a firestorm of media coverage and public reaction that followed their demands being presented to Thayne in December."
Which is kind of a smart idea if you think about it, considering that "Lynch" idiocy.
From the PennLive article:
In response, Thayne on Thursday said the name of the college's Lynch Hall, named for former college president Clyde A. Lynch, will remain the same, albeit with a biographical note explaining Lynch's significance.

In a copy of Thayne's speech supplied to Pennlive, he says there was complete agreement on this issue, adding "In many ways this LVC discussion has been a lesson in owning our history. It is also a lesson in owning the tragic history of lynching in this country and I am glad we have a session on this topic today."
RELATED: Students want building renamed because it honors a guy named … 'Lynch'
There are no known ties between Dr. Clyde A. Lynch and the practice of lynching, but the students in December said the name evokes the mass killings of blacks across America nonetheless. They asked that Lynch's name be removed or that his full name be affixed to the building.

Thayne said a biographical note will appear at the building instead, as well as in those named for other benefactors or administrators on campus.
President Thayne was more than generous in even agreeing to that.
On its blog, the FSU complains about the media focusing on just the "Lynch" controversy:
Somehow, out of everything that we did the issue of renaming the Lynch building was the one part of our movement that caught media attention. Fox News, NBC, CBS, as well as many other news outlets took hold of this story, and started targeting members of our movement, calling some of us "The Dumbest Students in the Nation."
"Somehow"? Maybe that's because out of everything that was demanded, this was by far the most ridiculous.
But don't worry — these folks may just have supplanted you for the title of "Dumbest Students."
Read the full PennLive article.
RELATED: Harvard president warns against race-based rush to yank law school seal, rename buildings
Like The College Fix on Facebook / Follow us on Twitter
IMAGE: Chisel Wright/Flickr