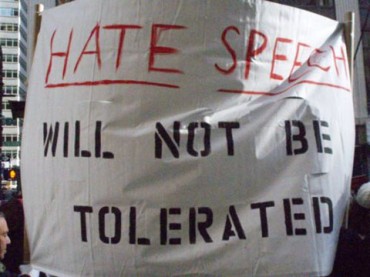 'Let yourself be offended because it's really good for you'
Colleges have it backward: "Hate speech" should not only be accepted but embraced, because allowing it to flourish is the best way to prevent "conspiratorial" thinking from taking hold, according to a controversial U.K. author.
Spiked editor Brendan O'Neill told The College Fix that enacting speech codes, disinviting controversial thinkers from speaking on campus and banning the playback of songs with alleged hate speech are hurting students more than helping them.
Described by the the U.K. Daily Mail as "one of Britain's leading left-wing thinkers," O'Neill is the author of A Duty to Offend: Selected Essays, a columnist for The Australian and a blogger for the Daily Telegraph.
Visiting the U.S. for a First Amendment conference and to lay the groundwork for a Spiked office in America, O'Neill explained his take on the philosophy behind anti-free speech advocates and movements, and defended the right to practice hate speech.
The state of free speech in the U.K. is far worse than in the U.S., O'Neill said, primarily because it lacks the equivalent of the First Amendment. Restrictions on speech are particularly bad for college students, he said.
"When you're 18 years old … you think you know things but you actually know nothing, and you go to campus and you are bombarded with all these new ideas and new ways of thinking, controversial stuff, things that make you go, 'Oh my God, I'm so shocked by that!' and that's good because it shakes you up," O'Neill said.
"It teaches you how to stand on your own to feet and how to become autonomous," he continued. When students demand trigger warnings and safe spaces in response to "shocking' ideas, "they're really making themselves dumb and dogmatic because they're not challenging their own thoughts."
Purposefully offend yourself every day
Colleges should be places that encourage public debate and discussion because students need to think about why believe certain things, O'Neill said: "You've got to let yourself be offended because it's really good for you" and "it makes you better at arguing why you might be right."
O'Neill goes so far as to encourage students to "go somewhere where you will be really offended and learn from it" every day.
He agrees that hatred is "usually quite irrational, but it's just an emotion" that the state tries to police at its own peril.
"Hate speech is a wonderful thing. It's energizing. I love to hear it," O'Neill said. When it's suppressed, "you push these ideas underground, where they fester and grow, no one can really challenge them in public … and people start to believe them in a very conspiratorial way."
"Even the most obnoxious, foul, racist, scummy, horrible ideas you can imagine" are better being expressed "because then the good people can argue against them," he said.
The deeper philosophy behind the anti-free speech movement is that its adherents "think ordinary people are volatile, stupid, and gullible," O'Neill said.
The assumption is that if ordinary people "hear a racist idea they will go out and beat up a black person, if they hear an Islamophobic idea they will go out and burn up a mosque, if they see a porno film, they will rape a woman," O'Neill said.
This view sees people as "animals who just imbibe all these messages and act on them, and that is a deeply, deeply insulting idea."
Like The College Fix on Facebook / Follow us on Twitter
IMAGES: Ashley Marinaccio/Flickr, Brendan O'Neill's Twitter profile