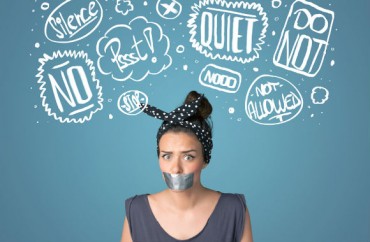 Because students used to call women 'bitches' and 'gold digging ho's,' scholar explains 
A women's and gender studies lecturer at North Carolina State University is docking her students' grades for using "sexist language" in class assignments.
What's sexist? "Generalized pronouns," according to a portion of a syllabus obtained by The College Fix.
The directive is aimed at students in Nancy Bishop's online class "Women and Poverty."
"Thanks to evolution, generalized pronouns and other biased references are no longer acceptable in any class," the syllabus reads in a section on "Non-Sexist Language."

"You may NOT use 'he' or 'him' or 'man' to refer to both men and women," it continues. Bishop tells students they can replace "mankind" with "humans" or "humankind," and should write "she or he" instead of just "he," though the syllabus is unclear on whether students should always lead with a female pronoun.
"Grades will be docked for sexist language in assignments," the section concludes. It doesn't specify how students should address gender identities outside of the male-female binary.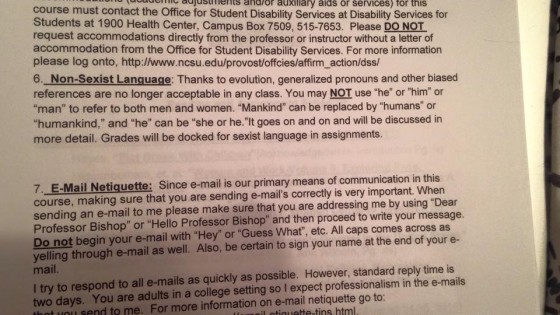 Time management is the rationale for the language rules
Bishop told The Fix in an email that she requires students to abide by these language directives because of the vulgar language of previous students.

"When addressing women in an academic setting—especially an online one, some students feel that by being behind a computer keyboard they are 'free' to address women and even women addressing men as something other than what is really respectful," Bishop said.

"I have had students call women 'bitches' and 'gold digging ho's' or label women as 'maid's or the dishwasher'—etc. and some female students label men as 'typical ass chasing dicks', etc.," she said.

Bishop portrayed the language rules as necessary to use time wisely in class and prevent tempers from flaring.
"I would have to spend the semester 'putting out fires' instead of spending that valuable time teaching. This also opens up the ideal to students that we can live and function in a world without sexism," she said.
Though North Carolina State doesn't forbid the use of "generalized pronouns" as a school, professors are allowed to set their own rules for class, a university spokesman said in an email to The Fix.
The spokesman added that it is not standard practice at the school to dock points from students for using purportedly sexist language in class.
"The university is dedicated to the transmission and advancement of knowledge and understanding," the spokesman said. "Academic freedom is essential to the achievement of these purposes."
'Failure for the semester' if you keep calling women 'females'

Bishop isn't the first teacher to punish students academically for politically incorrect language.
Selena Lester Breikks, who is listed as a graduate teaching assistant in the Department of Critical Culture, Gender & Race Studies at Washington State University, goes much further in her syllabus for "Women & Popular Culture."
As reported by Campus Reform, Breikks lists a wide range of language as "oppressive and hateful" – not only "The Man," "Colored People" and "Tranny," but also "referring to women/men as females or males."
While promising that she will correct such language in class as a "learning moment" for students, Breikks threatens much worse for "repeated use" of verboten terms, "including but not limited to removal from the class without attendance or participation points, failure of the assignment, and – in extreme cases – failure for the semester."
Immigration references are a sore spot for both Breikks and another WSU colleague, fellow Ph.D. candidate Rebecca Fowler.
Though Breikks is less specific about the consequences students will face for using the term "illegals" or "illegal aliens," Fowler's syllabus for "Introduction to Comparative Ethnic Studies" – also highlighted by Campus Reform – is quite clear.
Using such terms for undocumented immigrants will earn students a "deduction of one point per incident," Fowler's syllabus states. She notes that the latest version of the Associated Press Stylebook, which governs many mainstream-media newsrooms, counsels users to reserve "illegal" as an adjective for actions, not people.
Professors at the University of Tennessee-Knoxville have also been given marching orders on how to address students, in a university-wide memo from the Office for Diversity and Inclusion, as The Fix reported last week.
Pride Center Director Donna Braquet wrote on the office's website: "In the first weeks of classes, instead of calling roll, ask everyone to provide their name and pronouns. This ensures you are not singling out transgender or non-binary students."
Professors should use the name-and-pronoun introduction at every opportunity, Braquet wrote, including on nametags for various meetings.

RELATED: Univ. of Tennessee: Use 'ze, xe, xem, xyr, zirs, hirs' gender-neutral pronouns
RELATED: UTK student refuses 'ze, xe, xyr, zirs' gender-neutral pronouns: 'I will not change my entire vocabulary'
Like The College Fix on Facebook / Follow us on Twitter
IMAGE: Shutterstock