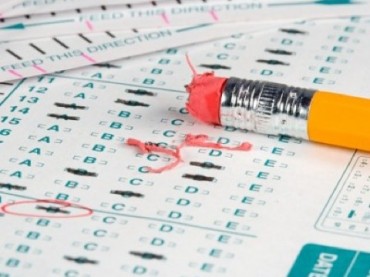 Perry Stein's article in The Washington Post on Friday covers a topic I had been wondering about for several years: When will students begin to openly voice their displeasure at the quantity of standardized testing they're being subjected to … by simply ignoring the tests?
When standardized test scores at Washington DC's high-achieving Wilson High School had dropped off noticeably, one student had a very good explanation for the dip: Since the assessment known as the Partnership for Assessment of Readiness for College and Careers (PARCC) doesn't affect students themselves, the teens either "refused to take the test or intentionally flubbed it."
They'd rather concentrate on tests that do affect them — like Advanced Placement exams.
"Chemistry was such a difficult subject for me, and the AP exam is very strenuous," [Wilson senior Emma] Buzbee said. "Me and a lot of people in my class decided not to take the exam and go to the review instead. There was never any explicit reason we were given about why we were supposed to take the [PARCC] exam."
Indeed, PARCC, like assessments around the country, are used to measure school performance as a whole, and in some cases to also evaluate teaching performance. It's federal law that schools must test students every year in grades 3 through 8, and then once in high school. Ninety-five percent of students must take the tests for schools not to be penalized.
Keep in mind, too, that we're not talking about just one test. Students often must take multiple assessments several times a year in order to gauge their progress. Gone are the days when kids took one such exam per year which gave them (and their parents) a snapshot of how they were doing compared to their peers across the country.
And this is precisely why testing "opt-out" movements have been springing up all over the country: The sheer quantity of testing simply has gotten ridiculous.
MORE: Lawsuit: Florida counties punish testing 'opt outs' by not promoting them
Where I used to teach, not only do students have to test throughout the school year in English and mathematics, they also have to endure a "pre-test" at the beginning of the school year, and a "post-test" at the end of the year in each of their other subjects.
These "pre-" and "post-" tests are relevant only for teachers' yearly evaluations. Imagine the creative allurement educators must come up with to motivate their charges just to take these tests. Other than "Please do you best … as my job may depend on it," that is.
Again, consider: These students test at least twice per year in English and math, and again twice per year for their other subjects. This is the bare minimum. Other assessments may pop up from time to time, either prototypes of some potential new assessment, or as a questionnaire/survey type of deal administered by an outside interest group.
Need I mention that these kids still have to take their usual teacher-administered tests and quizzes, including mid-terms and finals, for all of their classes throughout the year?
Now, go back and put yourself in the shoes of someone like Wilson High's Emma Buzbee from the WaPo story.
The parents of another Wilson student said regarding that school's PARCC test that "[Our son] wasn't thinking, 'It's going to be a win for Wilson if I win on this test.'"
A Wilson senior said her parents got her out of taking the PARCC just so she wouldn't miss two Advanced Placement English classes:
"I do feel guilty that we didn't take it because it seems that we could have taken it and it would have helped the school," she said. "But I do blame the school for doing a really bad job on organizing it. It was really confusing, people felt forced into it, and it just didn't feel valuable to a lot of students and wasn't worth their times."
Expect to see many more tales like these in the months to come.
MORE: Deadline looms for public input re: US DoE punishing schools for 'opt-outs'
MORE: Teen suspended for refusing Common Core test
Like The College Fix on Facebook / Follow us on Twitter