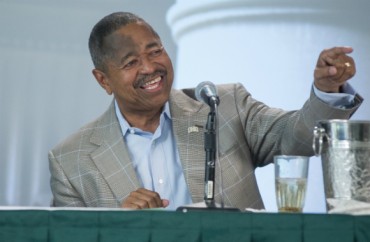 Pro-Trump sentiments are 'wrong purpose' for wall
Ohio University students might be forced to undergo "cultural awareness training" because some students publicly support Donald Trump's candidacy.
President Roderick McDavis asked the Student Senate last night to design such a program, which he has already approved, The New Political reports.
It would be "a collaboration between Faculty and Student Senate, and the Office of the Vice Provost for Diversity and Inclusion and will be a method of reinforcing an inclusive atmosphere in Athens":
McDavis addressed the issue of the offensive comments on the graffiti wall. He maintained his belief in freedom of speech, but denounced the current way the wall is used.

"It's a wall where we put up our ideas," McDavis said. "In my opinion, it has been used for the wrong purpose."
MORE: Mandatory 'cultural compentency' courses demanded at Ohio U.
In response to the graffiti wall, Pres. McDavis asked @OHIOUSenate to enforce diversity training. https://t.co/TvgeAHvU9I pic.twitter.com/2k7m9kcaaX

— The New Political (@TheNewPolitical) September 29, 2016
That "wrong purpose" was writing "Build the wall" on the wall, which is explicitly intended for students to write whatever they want.
The Post reported that "a depiction of a hanged figure" and the internet address "iraqbodycount.org/database" also appeared on the wall last week. (The campus College Republicans denounced the hanged figure.)
The administration doesn't see the contradiction in offering a so-called graffiti wall to the community and then getting mad when it's used for graffiti:
OU Spokeswoman Carly Glick said it is the responsibility of an institution of higher to promote inquiry and learning.

"Paint may be able to cover offensive messages and reprehensible images, however, it will never conceal our underlying societal problems," Glick said in an email. "It is our intent that the Graffiti Wall will continue to teach our university community that words and images are powerful."
MORE: Ohio U. College Republicans under siege for free speech wall
A mural on campus was vandalized with a depiction of a hanged figure, 'https://t.co/s8QF3Jfs7T' & 'build the wall'https://t.co/Lz2qhVzclv

— The Post (@ThePost) September 21, 2016
It's not the first time McDavis has freaked out over the phrase "Build the wall" showing up on the free speech wall.
In a gesture denounced by the CRs, McDavis sent a campuswide email this spring saying that while the wall is "a place for free speech and expression," pro-Trump expression has a "very different meaning" to some people.
Yet he also met immediately with black students who were angry that their Black Lives Matter message was "defaced" – after it had been up five days already.
The CRs later wrote "You can't wall off the 1st Amendment" on the wall, but it was painted over within hours and they were accused of racism.
Read the New Political and Post stories.
MORE: Oh no! 'Black Lives Matter' painted over on 'graffiti wall'
MORE: Ohio University's outgoing president let the school fall in the toilet
MORE: College students protest against the First Amendment
Like The College Fix on Facebook / Follow us on Twitter
IMAGE: Ohio University Libraries/Flickr
Like The College Fix on Facebook / Follow us on Twitter