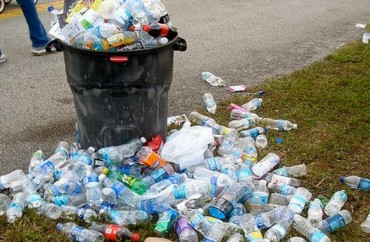 Actions taken to help environment failed to do so, may have done more harm than good, research finds
After bottled water was banned at the University of Vermont, students elected to drink more sugary bottled beverages, and did so at a higher rate. Not only did the ban fail to reduce plastic waste, it also failed to help students' waistlines.
This according to a new study, "The Unintended Consequences of Changes in Beverage Options and the Removal of Bottled Water on a University Campus," published in the July issue of the American Journal of Public Health.
"The bottled water ban did not reduce the number of bottles entering the waste stream from the university campus, the ultimate goal of the ban," researchers concluded. "With the removal of bottled water, consumers increased their consumption of less healthy bottled beverages."
In fact, the data found an 8 percent increase in bottles shipped to the campus between Spring of 2012 and Spring of 2013, and a 25 percent increase in bottles of sugary drinks shipped to campus, according to University of Vermont officials.
This despite the fact that the university offered free reusable bottles at campus functions, and retrofitted water fountains with spouts specifically for filling these reusable bottles.
But the findings came as no surprise to "Conversable Economist" Timothy Taylor, who noted that a "reasonable amount of survey data suggests that many people switch from sugar-sweetened drinks to bottled water, and that if bottled water isn't available, many of them will switch back."
"It seems to me that true believers in the power of community education should see no particular need for proposal to ban water bottles or mandate healthier mixture of drinks," Taylor added. "It's only if you doubt the power of such education that bans on bottled water become a plausible option."
As for the University of Vermont, it is not denying the study's findings. In an email to The College Fix, a campus official provided a statement put out by the university that describes how the campus will respond to the "unintended consequences."
"The research points to the role convenience can play in beverage choice," officials acknowledged.
In the statement, the university outlined a series of changes, beginning this month, that aim to reverse the trend. These changes include offering free, filtered cold water and free cups in all retail dining outlets. This fall, the university will also start a public information campaign.
The University of Vermont and its student body are notoriously eco-friendly and health conscious. The surprising results of this particular bottled water ban cast a dark shadow over the bottled water bans of other universities across the nation.
Some water companies quickly hopped on the study to criticize bottled water bans for doing more harm than good.
"These bans are a misguided attempt to deal with a waste issue that would be better addressed through efforts to increase the recycling rates of all packaged drinks," stated Chris Hogan, vice president of communications for the International Bottled Water Association. "Bottled water containers are the most highly recycled containers in curbside programs, and data derived from EPA figures demonstrates that plastic water bottles make up less than one-third of one percent of the U.S. waste stream. So, getting rid of bottled water on campus will not make a significant improvement to waste issues."
College Fix reporter Jason Weaver is a student at the University of Michigan.
Like The College Fix on Facebook / Follow us on Twitter
IMAGE: Bob B. Brown/Flickr