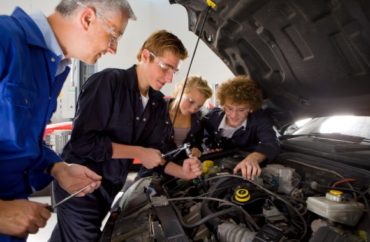 Manufacturing apprenticeship program boosts graduation rates and earnings, report finds
The perception that a traditional four-year college degree is the only pathway to success has been challenged by a vocational apprenticeship program experiencing massive success.
It has a wildly successful graduation rate and its alumni earn nearly $100,000 a year annually five years upon completion, according to a study reporting on the program's effectiveness.
Called FAME, or the Federation for Advanced Manufacturing Education, the program pairs employers with community college students for on-the-job training.
Its "earn-and-learn" model allows students to work for and learn from employers while still in school — and earn enough to fully cover the cost of their tuition.
"It's a wonderful program," Tony Davis, senior director of workforce initiatives at FAME, said in a telephone interview with The College Fix.
"We use the tagline that we create global best, multi-skilled, entry-level maintenance technicians. And there's a lot to take out of that phrase. … But we mean that," he said.
"It's a regimented program, and it's not for everyone, but … there are life-changing opportunities in manufacturing through careers like this."
FAME is a national apprenticeship program founded by manufacturers to meet the demand for skilled technicians. Students earn an associate degree and certification as an advanced manufacturing technician.
The October 2020 report on the program's success was published by Opportunity America and the Brookings Institute. It looked at graduates of the Kentucky Community and Technical College System, comparing FAME participants with non-FAME participants.
Though FAME holds 31 chapters in 13 states, the study's authors chose to examine specifically the Kentucky FAME system for being "the oldest and most-developed state FAME network."
Notable findings included superior graduation rates and strong salary earnings among grads.
"Among students who entered KCTCS between 2010-11 and 2016-17, FAME participants were significantly more likely than non-FAME participants to complete their program of study–roughly 80 percent of FAME students graduated, compared with 29 percent of non-FAME students," the report states.
"Earnings and employment gaps were if anything more pronounced," the report added.
"One year after completing a KCTCS program, FAME graduates' median earnings were $59,164 a year, compared with $36,379 for non-FAME participants. … Five years after completion, FAME graduates were earning nearly $98,000, compared to roughly $52,783 for non-FAME participants—a difference of more than $45,000 a year."
FAME was co-founded by Toyota in 2010. It was designed to provide employers with a "talent pipeline" of skilled technicians directly from school.
In 2019, stewardship transferred to the Manufacturing Institute, the "nonprofit workforce development and education partner" of the National Association of Manufacturers.
The model features a partnership between local manufacturing companies and community colleges. One FAME chapter will work with between eight and 12 companies, on average.
"We look for a collaboration of employers that have a need for this particular training program. That collaboration then becomes the chapter itself," Davis told The Fix. "It's a bit of a symbiotic relationship between employers [and] the FAME chapter, and a college partner. The college partner has to provide the actual learning that leads to a degree."
When a student enters the FAME program, a company becomes their sponsor. A student's time is divided between classroom learning and work at their sponsoring company. By graduation, they will have logged more than 1,800 hours of job experience.
"FAME students attend classes at a local community college two days a week (8 hours or more each day) and will work at least 24 hours a week (8 hours or more each day for three days) for a local, sponsoring employer — being paid a competitive wage," FAME's website states.
This competitive wage, set in collaboration between the chapter and the employer, fully covers the cost of tuition.
Currently, FAME partners with over 300 employers, and 85 percent of graduates move on to work full-time for their sponsor immediately after graduation, the report states.
While rewarding, FAME is "not for everyone," according to the report.
"FAME is a rigorous, demanding program. Just over half of the graduates we surveyed reported that their academic skills placed them in the top third of their high school class, and the overwhelming majority of them felt it had equipped them well to succeed on the job," it states.
The learning model stresses the development of a "well-rounded worker." Training includes technical manufacturing skills, manufacturing core exercises, and professionalism.
Davis emphasized the need for more manufacturing programs like FAME.
"We're not competing against the company across town, we're not competing against the one across the state — we're competing globally," he said. "And so we've got to make sure that we are faster and better and more efficient at every single thing that we do. And our people are a really big part of that."
He also spoke to the stigma often associated with industries like manufacturing.
"Unfortunately, we have many individuals who could and would do very well, but they do not think that manufacturing is for them, or they do not think that the opportunity to pursue skills training like community college is for them, and oftentimes that is strictly through, again, a misperception or misconception of what the training is, or what they'll be doing with that training," he said.
"We know that we need not just more maintenance technicians, but more people in manufacturing, and to get more people, we need more than the traditional white male. We need more representation from under-represented populations, women and minorities."
The report, "Kentucky FAME: Fulfilling the Promise of Apprenticeship," was written by Tamar Jacoby and Ron Haskins. Jacoby is the president of Opportunity America. Haskins is the senior fellow emeritus in economic studies at the Brookings Institution.
MORE: At this vocational college, you pay NO TUITION until you land a $50K-plus job
IMAGE: Juice Verve / Shutterstock
Like The College Fix on Facebook / Follow us on Twitter