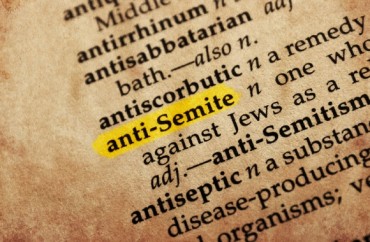 Strong uptick in anti-Semitic incidents after BDS resolutions
Jewish college students saw their speech suppressed and suffered civil rights violations on campus in greater numbers in the first half of 2016 than the first half of 2015, according to a new report by a pro-Israel campus organization.
The mid-year study by the AMCHA Initiative, tracking anti-Semitic incidents on 113 college campuses with the highest Jewish undergraduate populations, found nearly 100 more total incidents from January through June than the same period last year.
Most of the suppressed-speech incidents involved pro-Palestine activists and members of Students for Justice in Palestine (SJP) chapters, according to AMCHA's anti-Semitism tracker.
MORE: Proposed 'principles against intolerance' ignore rampant anti-Semitism
Director Tammi Rossman-Benjamin told The College Fix in a phone interview Tuesday that much of this suppression came in the form of protests and disruptions.
For example, pro-Palestine students laid on the ground to resemble dead Palestinians at events put on by Jewish student organizations at Stanford and the University of California-Berkeley. At the demonstration at UC-Berkeley, SJP leaders pressured regents to "divest from Israeli businesses."
Anti-Semitic (according to the State Department)
According to the first-half 2016 report, 14 incidents on 12 campuses involved suppressing the speech of Jewish students, "blocking their movement or hindering their assembly," an increase from eight incidents on seven campuses in the prior year period.
Nearly three times as many incidents "opposing the existence of Israel" happened between January and June this year (43) compared to the first half of last year (15), the report said. Such expression is "highly correlated with conduct that targeted Jewish students for harm."
Robert de Niro: "#Israel is fighting for its right to exist"

Yup, it's always the POOR, POOR, ZioNazis!!!!!! pic.twitter.com/CbIFOj1vrM

— DJ Rubiconski (@Rubiconski) July 19, 2016
The report classified incidents as "antisemitic expression" when they contained "language or imagery that used one or more of eight tropes included in the U.S. State Department definition of antisemitism."
MORE: UC considers unconstitutional speech codes to punish anti-Semitism
The State Department's definition has proven controversial for potentially infringing on speech protected by the First Amendment: Saying the Holocaust was "exaggerated" is considered anti-Semitic.
That definition was considered for adoption by the University of California board of regents last year, which eventually adopted a more limited statement condemning "anti-semitic forms of anti-Zionism."
Jews blacklisted from Black Lives Matter?
Politically progressive Jews are also being ostracized by like-minded peers "because of their support, or even just presumed support, for Israel," the report says: "Jewish students report being rejected from progressive social justice activities such as pro-choice rallies, anti-rape demonstrations, Black Lives Matter events and racial justice conferences."
Asked for an example of such progressive targeting, which are not laid out in the new report, Rossman-Benjamin cited an incident from November 2015 at the State University of New York-Albany.
MORE: Surprise loss for BDS supporters in academic association
According to the incident tracker, a Jewish student with an Israeli flag and "Blacks Lives Matter" sign wished to join a protest called "From Ferguson to Palestine." That student was rejected by the activists for "hating Africans" and "not valuing black lives" and was not allowed to participate in the assembly.
A more recent incident from AMCHA's tracker took place this April at Cornell, where an SJP event was promoted with this language on the university's website: "Movements for social and environmental justice need to address the ways the Israeli government and U.S. Zionist foundations perpetuate violence and repression in Palestine" and "understand Zionism as a threat to us all."
Rossman-Benjamin told The Fix that Jewish students who hold pro-Palestine views are still subject to anti-Semitism based on an assumption that all Jews are Zionists.
The tracker does not distinguish between anti-Semitic incidents allegedly committed by Jews and non-Jews. Rossman-Benjamin said it's possible some incidents were committed by Jews against other Jews.
Northeast dominates schools with biggest spike in anti-Semitism
The study found a correlation between anti-Semitism and boycott, divestment and sanction (BDS) resolutions. Student governments at 10 schools in the study considered the anti-Israel resolutions, and eight of those "showed the largest increase" in anti-Semitic incidents in first-half 2016.
The nine schools with the largest increase in anti-Semitic incidents between first-half 2015 and 2016 are a mix of public and private, though three of the four private schools are in New York, and four of the nine total are in the Northeast, the report said.
MORE: Not a good year for Jewish students at California colleges
They are Columbia, Vassar, New York University, University of Chicago, University of Minnesota, University of Massachusetts-Amherst, University of Wisconsin-Madison, University of Florida and University of Washington.
The report's recommendations to administrators include adopting a definition of anti-Semitism that "identifies all forms of anti-Jewish bigotry, including when criticism of Israel crosses the line" into anti-Semitism.
Though it uses the State Department's definition to classify anti-Semitic incidents and includes the full definition in an appendix, the report doesn't recommend schools use that particular one, as the University of California considered.
It also recommends creating resources to educate students and faculty about "contemporary forms" of anti-Semitism – a term the report uses several times – and drawing the line between free speech and violations of others' civil rights, such as by "disrupting or shutting down their campus events."
MORE: UC regents denounce 'anti-semitic forms of anti-Zionism'
Like The College Fix on Facebook / Follow us on Twitter
IMAGES: Shutterstock, Hampton Institute/Facebook