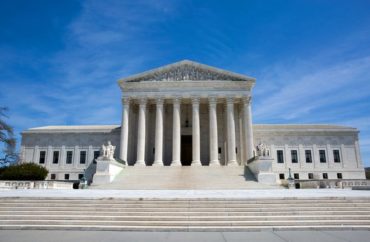 In a victory for student free speech rights, the U.S. Supreme Court on Wednesday upheld the right of a high school cheerleader to post a vulgar tirade on social media after she failed to make the varsity cheerleading team.
The court voted 8-1 in favor of 14-year old high school freshman Brandi Levy, who took to Snapchat to post an angry video after she learned she had not made the varsity squad at her high school in Mahanoy City, Pennsylvania.
Levy posted one photo of herself and a friend with middle fingers raised; it bore the caption: "Fuck school fuck softball fuck cheer fuck everything." The second photo she posted was blank, with the words "Love how me and [another student] get told we need a year of jv before we make varsity but tha[t] doesn't matter to anyone else?" It was accompanied by a frowny face emoji.
The post was viewed by another student at the school, who took a screenshot of it and shared it with other students and parents, one of whom was a coach for the cheerleading team.
Following the post, the school suspended Levy from cheerleading for a year, claiming her comments had made some students "visibly upset," and the use of profanity had violated both team and school rules.
Levy's parents filed a federal lawsuit, arguing the school had no authority to punish their daughter for her speech outside of school. Lower courts agreed, and finally the school district appealed to the U.S. Supreme Court.
"It might be tempting to dismiss B. L.'s words as unworthy of the robust First Amendment protections discussed herein," wrote Justice Stephen Breyer for the majority. "But sometimes it is necessary to protect the superfluous in order to preserve the necessary," he wrote.
"Unlike the Third Circuit, we do not believe the special characteristics that give schools additional license to regulate student speech always disappear when a school regulates speech that takes place off campus," Breyer wrote. "The school's regulatory interests remain significant in some off-campus circumstances."
The court, however, did concede there were some areas in which schools could punish off-campus speech, such as in cases of "serious or severe bullying or harassment targeting particular individuals; threats aimed at teachers or other students; the failure to follow rules concerning lessons, the writing of papers, the use of computers, or participation in other online school activities; and breaches of school security devices, including material maintained within school computers."
Justice Clarence Thomas was the only dissenter, citing previous case law that did, in fact, allow schools to punish students for activities that took place away from campus.
"The location of her speech is a much trickier question than the majority acknowledges," Thomas wrote. "Because speech travels, schools sometimes may be able to treat speech as on campus even though it originates off campus," he said, noting that social media posts are different than, for example, a student passing out vulgar leaflets on campus.
"Where it is foreseeable and likely that speech will travel onto campus, a school has a stronger claim to treating the speech as on-campus speech," Thomas wrote.
In the Supreme Court case, Levy is referred to only by her initials, as that is how she was named in the original lawsuit. Since then, she has allowed her name to be used in interviews she has conducted.
Levy is now 18 and just finished her first year of college.
Read the full decision here.
IMAGE: Steven Frame / Shutterstock
Like The College Fix on Facebook / Follow us on Twitter