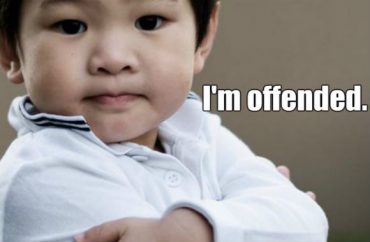 Oy vey.
The Knight Foundation is seriously burying the lede with its latest survey of attitudes toward the First Amendment by high-school students and teachers. This is how it starts:
[A] new survey shows that high school student support for the First Amendment is the highest it has been in the last 10 years.
And then you look further down to find the "exceptions" for that "support," and you "face-palm."
Ninety-one percent of students say people "should be allowed to express unpopular opinions."
You lose a bunch of them when you ask whether "freedom of speech is ultimately more important than protecting someone from being offended." Only 64 percent agree (by race: 69 percent of whites, 59 percent Hispanics and Asians, 50 percent of blacks).
Only 45 percent believe "people should be allowed to say what they want if it is offensive to others in public." 51 percent of students disagree. Keep in mind the only qualifier here is "if it is offensive to others."
Support drops to 43 percent when you ask students about saying subjectively offensive things on social media. And if speech is "seen as bullying," support for the right to say it drops to 36 percent (generally) and 30 percent (social media).
These are hardly encouraging trends, yet the Student Press Law Center leads with the same rose-colored glasses, albeit acknowledging "a few caveats."
It does note "a somewhat concerning trend" that teachers are supportive of censorship on their students:
Sixty-one percent of teachers believe that students should not be allowed to report on controversial issues in student newspapers without the approval of school authorities, while 66 percent believe students should be punished for expressing their opinions about teachers and school administrators on social media.
Amazingly, student support for publishing "controversial stories without prior approval from school authorities" is only 63 percent.
One of the few bright spots is that students who "often" consume and discuss news with others are 10-15 percent more likely to "strongly agree" that people should be allowed to express unpopular opinions.
The survey covered nearly 12,000 students and more than 700 teachers.
Read the survey results and the Student Press Law Center report.
Like The College Fix on Facebook / Follow us on Twitter