Swarthmore student flees campus after bullying prompts safety concerns 
Reaction to a Swarthmore College student's recent op-ed in the campus newspaper about the preppy liberal arts school's need-blind admissions program has been so vicious and severe — cyberbullying, a message telling her she should have her tongue removed, a note saying "kill yourself bitch" — that the column's author has left campus.
Erin Jenson told The College Fix her Sept. 12 column in the campus newspaper, "The Admissions Office Doesn't Care About Your Values," argued that the same colleges encouraging students to challenge anything perceived as privilege do in fact check the privilege of their applicants through complex formulas that ensure a certain percentage of students admitted will be paying full tuition.
A New Jersey native, Jenson also bluntly criticized peers in the op-ed, saying "hyper-liberal classmates … resent the upper class at its core" when they ought to say "thank you so, so much for being forced to pay for my opportunity."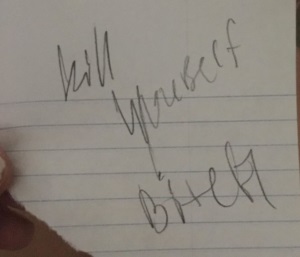 For that, Jenson said she has received four physical threats and been cyberbullied almost 100 times on social media. She told The Fix some of the more extreme comments came from one person who told her she should have her tongue removed, and another, a written note she found in her bag at the gym the day after the op-ed came out, which stated: "kill yourself bitch."
"I started crying," she said of her reaction finding the note. "I panicked. I thought someone really wanted me dead or was trying to scare me. I notified public safety right away."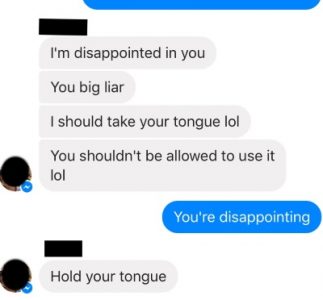 (Pictured, images provided to The Fix from Jenson. Names and faces redacted by The Fix.)
That's not all.
Additional reaction to Jenson's piece included the creation of a "Reparations For Erin" gofundme page, as if she wrote the article asking for reimbursement for wealthier students. (The page has since been deleted.)
"One person posted a status saying I was suggesting ethnic cleansing of minorities. I didn't even bring up race in the article. I've been called a white bitch, privileged asshole, white supremacist, proponent of slavery. Someone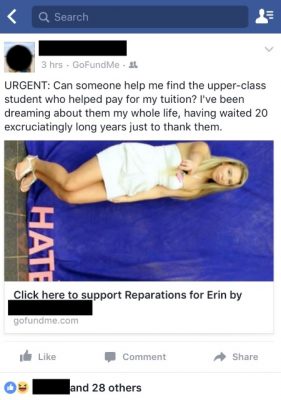 made up a rumor that I didn't want to go to school with low-income students," Jenson said of additional comments directed toward her on social media.
"Liberal students, of the most triggered generation, overreacted and took this to be a personal 'attack' on low-income students," she said. "Instead of understanding the purpose of the piece, they responded emotionally, taking to Facebook to share their angry responses, filled with sob stories and personal insults towards me."
The bullying has been so severe, Jenson — a senior majoring in economics and political science — said she felt she had to leave the school.
"I'm afraid, but I want to finish my education," she told The Fix.
A Swarthmore campus spokesperson did not respond to emails or phone calls Sunday and Monday seeking comment.
Jenson admits she has been surprised by the backlash.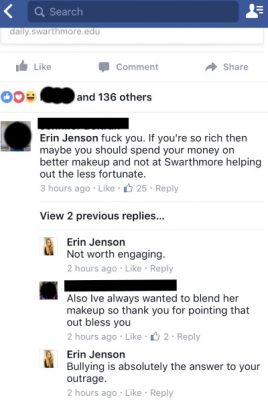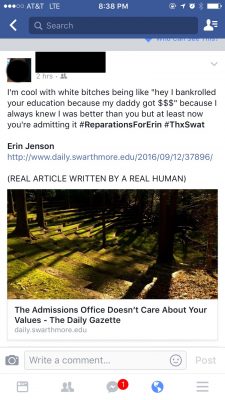 "I didn't expect it to cause people to convulse and shake," she said.
The Daily Gazette campus newspaper has since apologized for running Jenson's column, with editors stating they "fucked up" by running it.
But some students took the time to respond thoughtfully.
An alternative Swarthmore campus publication, The Phoenix, featured a couple of op-eds responding to Jenson. One student wrote of growing up poor, saying, "Your article has caused so much pain and agony for so many people." Another student discussed similar experiences, writing, "We [low-income students] have fought our way through the chaotic spectacle that is college admissions, and we have earned every dollar in our financial aid packages."
As for the bullying response to Jenson's article, that type of behavior is not altogether new to Swarthmore, a top-ranked private liberal arts college in Pennsylvania that reportedly costs nearly $50,000 a year in tuition and fees to attend.
Back in 2013, an open Board of Managers meeting was commandeered by a liberal student group demanding environmental justice. They stormed into the meeting and performed a "Clap Down." Every time someone tried to speak, the intruders clapped so speakers could not be heard.
Referencing this incident and her own current situation, Jenson said "it shows how close minded and bigoted they are. This attitude is not going to thrive in the real world."
Crybullies shut down debate through brute force
The situation at Swarthmore underscores a growing trend on college campuses in which left-leaning students shout down and silence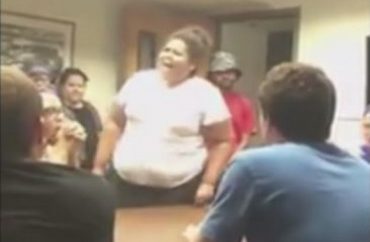 dissenting views rather than respectfully engaging them. Such protestors tend rather to respond with ad hominem attacks, shaming, and threats of violence.
Just last week, for example, protesters descended on and hijacked the conservative Young Americans for Freedom chapter meeting at the University of Kansas (pictured).
The group of protesters repeatedly challenged YAF members and called them names, and sometimes screamed at them when they didn't observe practices like asking speakers which gender pronouns they prefer, The College Fix reported last week.
At UC Berkeley earlier this month, student protestors bum rushed the College Republicans tabling event, ripping up their life-size Donald Trump cut out.
At Columbia University, one student told The Fix this month he fears he will be "physically assaulted" if he wears conservative clothing or voices conservative opinions on campus.
And over the last year, leftist student protestors have shouted down conservative campus speakers with whom they disagree, such as Milo Yiannopoulos and Christina Hoff Sommers.
MORE: WATCH — Protesters hijack conservative student meeting, call them 'white supremacists'
Like The College Fix on Facebook / Follow us on Twitter