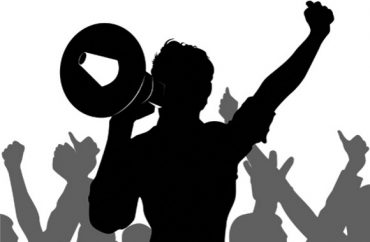 Student protesters at Swarthmore College feel that one of the school's core values is "under attack" … all because they discovered they're actually not permitted to do whatever the heck they want.
Last month, members of the anti-fossil fuel group Mountain Justice occupied Chief Investment Officer Mark C. Amstutz's office to denounce the school's investments in fossil fuels. This past week, five of the group were cited for their (alleged) refusal to vacate the premises.
According to Philly.com, the quintet face punishment ranging from a warning to probation.
Swarthmore President Valerie Smith said in a statement that, while the school has "proud tradition" of free expression, the activists prevented Amstutz "from completing all but the most menial of tasks and restricting his movements and rights."
Will Marchese, one of the five students cited, griped that even a warning would be "against college values." He said the occupiers didn't do anything "inappropriate," and "actually helped Amstutz shred documents."
"I was really disappointed and confused," said Stephen O'Hanlon, a senior political science and sociology double major from Downingtown who was cited. O'Hanlon said for all but a few minutes, he was in the hallway outside the office and acting as a mediator with public safety department. He was never asked to leave, he said.

The action has sent a chill on and off the campus as students and alumni view the citations as a way to suppress student voices.

An open letter in the student-run Daily Gazette to Smith and Associate Dean Nathan Miller and signed by numerous alumni stated: "At an institution that defines itself by the ethic of social responsibility it instills in undergraduates, students must be able to assemble freely."

The campus has come together around the issue of climate justice and the right to protest, said Marchese.

"You can feel a deep frustration with the administration on this," O'Hanlon said. His four years at Swarthmore have instilled a deep sense of responsibility to take action on issues, he said.

While the college response has brought the issue of protesting to a head, the bigger issue is still the issue of fossil fuels divestment, O'Hanlon said.
The Daily Gazette letter notes that since President Trump and the new EPA chief "have denied that human activity causes climate change, it is more important than ever that private institutions act on behalf of the environment."
It also states that if the students involved in the protest did indeed violate the (student) code of conduct, then "their acts of disobedience were warranted."
Mountain Justice has a history at the college; in 2013 with the topic being fossil fuel investment and the school's $1.5 billion endowment, the group "disrupted [a Board of Managers] meeting, seized control, and shouted down others."
One might think M.J. would be a bit more grateful considering that in 2013 then-Swarthmore President Rebecca Chopp utilized funds from her own office to charter buses for the group's attendance at a Keystone XL pipeline protest.
MORE: 'Escape hatch' built for Berkeley admin building in wake of repeated sit-ins
MORE: West Chester students plan sit-in, demand public apology for inflatable doll
Like The College Fix on Facebook / Follow us on Twitter
IMAGE: Shutterstock