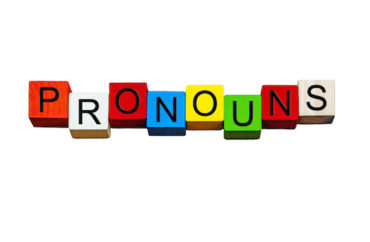 'A necessary addition for true inclusivity' that Syracuse must hide at all costs
The purpose of a copy editor is to ensure an article is grammatically correct, follows a set style and explains oddities to readers.
By those measures, Syracuse University student journalist Gillian Follett failed her job.
The assistant copy editor wrote an article for The Daily Orange on a new "personal pronoun" option in the private university's online portal for applicants, students, faculty and staff, known as MySlice.
As if the delicacies of personal pronouns aren't complicated enough, Follett started with this paragraph:
When khristian kemp-delisser became director of the LGBT Resource Center last spring, they knew that Syracuse University had room to improve how it reflected diversity in gender identities.
You'd think a copy editor would explain to readers that the lowercase "khristian kemp-delisser" is not a typo, but actually the rendering chosen by this Syracuse official. Follett could explain that the eccentric 19th century poet e.e. cummings pioneered this style. She doesn't.
Also no explanation why Follett refers to the official, a singular entity, as "they." Unsurprisingly, kemp-delisser also advertises "their" pronouns as "they/them/theirs." But Follett never fills in readers about either of these, leaving them to guess at her competence as a copy editor.
Then again, Follett appears to be simply following the lead of the university, which announced kemp-delliser's hiring last year using the same rendering and "they" pronouns, with no explanation to readers. Even when kemp-delisser's name starts the sentence, Syracuse renders the first "k" lowercase.
Now that we've dispensed with the failure of Syracuse to hold itself to proper writing conventions (perhaps influenced by anti-grade celebrity Asao Inoue), let's get to the substance of Follett's article.
Syracuse added the option to MySlice at the behest of the university's Pronoun, Gender and Preferred Name Advisory Council. It lets students indicate their pronouns on their profiles, specifically to "allow gender-nonconforming students to identify themselves more accurately and feel more included on campus," kemp-delisser, co-chair of the council, told the Daily.
The feature was requested by Chancellor Kent Syverud's Workgroup on Diversity and Inclusion in 2016. It asked for Syracuse to expand the "Preferred Name/MySlice process for choice of
gender pronouns, email display names, ID cards, and issues related to Blackboard and other relevant platforms."
Students have been able to identify by a preferred name in MySlice for the past two years, as opposed to the name in their official records. Kemp-delisser told the Daily (I refuse to start a sentence with lowercase under any circumstances) that the pronoun option "was a necessary addition for true inclusivity."
Yet true inclusivity also apparently requires a student's nonstandard pronouns to be kept secret:
Pronouns currently only appear on MySlice, but the council plans to expand the feature to connected platforms such as Blackboard, said Jenny Gluck, associate chief information officer for academic services and co-chair of the advisory council.

The council hopes to work with Information Technology Services to create a system for students to indicate which websites they want their pronouns shared on. Doing so will help to prevent students from having their gender identity revealed to certain people without their permission, she said.

"We want to be very careful about how we use this information," Gluck said. "We don't want to inadvertently make a student's life worse."
It's hard to square these two supposed necessities with each other. Students must be able to officially record the pronouns they prefer and yet keep them secret from certain parties?
It reminds me of the practice of some school districts in celebrating a student's gender dysphoria and then hiding it from the student's parents, but at least everyone in this situation is an adult.
You won't be surprised to learn that the pronoun option also has a side benefit: increasing the budget and influence of the LGBT Resource Center (which apparently doesn't serve queer or questioning students, the "Q" in LGBTQ).
Being able to track preferred pronouns will help the center better serve the community by letting it "gauge what resources are most needed and which initiatives are worth promoting," according to kemp-delisser. In other words: justifying budget boosts.
Syracuse community members who want to educate themselves in the "importance of pronouns in an individual's identity" can attend a pronoun competency workshop hosted by the center. Based on past turnout for woke workshops, I'm guessing it will not include many attendees.
MORE: American U. official says it plans to mandate use of preferred pronouns
IMAGE: Ed Samuel/Shutterstock
Like The College Fix on Facebook / Follow us on Twitter