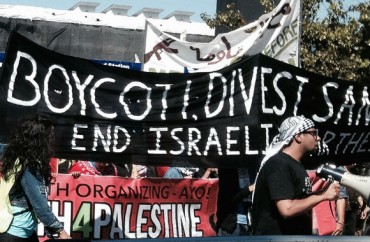 Syracuse University was planning to screen a much-buzzed documentary about the "religious settler movement" in the West Bank.
Until faculty panicked about how the anti-Israel forces on campus might try to wreck it.
Conor Friedersdorf at The Atlantic reports that The Settlers, by Shimon Dotan of New York University's graduate journalism school, was set to screen at this spring's International Conference on Religion and Film. Dotan was set to speak as well.
The invitation was made by the founder of Journal of Religion & Film at the University of Nebraska, but his colleague in Syracuse's religion department reneged the invitation. See her email to Dotan:
I now am embarrassed to share that my SU colleagues, on hearing about my attempt to secure your presentation, have warned me that the BDS faction on campus will make matters very unpleasant for you and for me if you come. In particular my film colleague in English who granted me affiliated faculty in the film and screen studies program and who supported my proposal to the Humanities Council for this conference told me point blank that if I have not myself seen your film and cannot myself vouch for it to the Council, I will lose credibility with a number of film and Women/Gender studies colleagues. Sadly, I have not had the chance to see your film and can only vouch for it through my friend and through published reviews. …

I do want to stress that my colleague who Chairs our SU Jewish Studies program, Zak Braiterman, was fully willing to strongly support your coming, even though he too has not yet screened your film. …

I feel caught in an ideological matrix and by my own egoic needs to sustain certain institutional affiliations.
A case-study from Syracuse University: How political correctness chills speech on campus https://t.co/Jjc8UgFDcS pic.twitter.com/0CaVC9p1wd

— The Atlantic (@TheAtlantic) September 1, 2016
Dotan isn't buying this – the Syracuse professor didn't even ask to get a copy of the film so she could vouch – and neither is Friedersdorf, who responds to the professor's claim that Syracuse never invited Dotan anyway:
But that seems rather beside the point here. The matter of concern here is the reason that the film was excluded: to avoid the perceived risk of ideologically motivated retaliation by campus activists, as well as the risk of losing credibility with "a number of film and Women/Gender studies colleagues."
A need to be perceived as politically correct proved decisive. I tend to avoid the term "political correctness" in my coverage of college campuses, but this incident fits the Merriam-Webster definition almost exactly: "conforming to a belief that language and practices which could offend political sensibilities should be eliminated."
Another Syracuse professor, Miriam Elman in the public affairs school, gave her own personal apology on Twitter and said that Dotan was coming to Syracuse after all. (Elman also covers the BDS movement for Legal Insurrection.)
Delighted! Award-winning Prof. Shimon Dotan has accepted apologies & will visit @SyracuseU for film screening soon. https://t.co/zMabKWQQce

— Miriam F. Elman (@MiriamElman) September 1, 2016
The campus is safe, however, for a pro-BDS speaker, Elman says.
Outspoken #BDS supporter NOW giving this keynote. No disruption, cancellation, or disinvite. #Irony @Yair_Rosenberg pic.twitter.com/3JBF9vPxDR

— Miriam F. Elman (@MiriamElman) September 1, 2016
Like The College Fix on Facebook / Follow us on Twitter
IMAGE: Alex Chis/Flickr