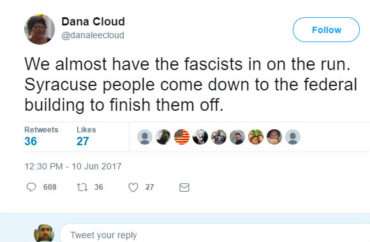 'At best … policing the tastefulness of private student expression'
A building on the Syracuse University campus features the words "FREEDOM OF SPEECH" in giant letters.
Those words apparently only apply to certain speakers and messages, though, as the Foundation for Individual Rights in Education told the private university in a scolding letter about its prosecution of 18 fraternity members and pledges for their satirical speech in privately made videos.
The education civil-liberties group has started a full-blown pressure campaign against Syracuse to force it to follow its "stated commitment to freedom of expression and basic notions of fundamental fairness," as FIRE staff lawyer Ari Cohn wrote in a Friday letter to Chancellor Kent Syverud.
The letter is marked "URGENT" and seeks a response by 5 p.m. Monday, just one business day after it was sent. The Theta Tau students will be tried in a single hearing Wednesday. Cohn told The College Fix Monday night that FIRE "got an acknowledgment of our letter, indicating that a response is forthcoming."
'Finish them off' is protected, criticism is not?
Cohn reminds Syverud that the chancellor had a very different reaction when the school faced controversy for an earlier speech incident.
One of its professors had arguably directed her Twitter followers to commit violence against participants in a rally against Sharia law in downtown Syracuse.
In a tweet that remains live 11 months later, tweeted while she was counterprotesting the anti-Sharia rally (below), Prof. Dana Cloud wrote: "We almost have the fascists in on [sic] the run. Syracuse people come down to the federal building to finish them off." (The Supreme Court's so-called Brandenberg test says speech loses its legal protection when it's directed at a specific person or group and directly calls for immediate lawless action against them.)
Chancellor Syverud defended Cloud against calls to fire or discipline her over the tweet. According to Syracuse.com, he wrote in an email to the community (missing from Syverud's archives):
"They insist that the University — and that I — denounce, censor, or dismiss the professor for her speech," Syverud said, refusing to concede.

"I can't imagine academic freedom or the genuine search for truth thriving here without free speech," Syverud wrote. "Our faculty must be able to say and write things — including things that provoke some or make other uncomfortable — up to the very limits of the law."
Yet Syracuse fired an adjunct professor when he privately criticized Syracuse for its action against the fraternity, saying that Stuart Card evidently didn't share the "values" of Syracuse. Cohn wrote in a blog post: "Syverud has not explained why the university reacted so differently to these two examples of faculty expression."
MORE: Professor surprised people took her 'finish them off' tweet seriously
Fails multiple legal and regulatory tests – and Syracuse's own policies
In his letter to the chancellor, Cohn systematically dismantles Syracuse's written charges against the Theta Tau students, saying they must be "rescinded immediately."
He noted that the Supreme Court's ruling in favor of Hustler magazine – for its "mock advertisement" of the Rev. Jerry Falwell – makes clear that "even the most blatantly ridiculing, outlandishly offensive parody" is protected by the First Amendment.
More broadly, decades of precedent have confirmed that offensive and even subjectively "hurtful" speech is protected, most recently in last year's trademark ruling in favor of Asian-American rock band The Slants, Cohn noted.
There's no way the satirical skits performed in the Theta Tau house could "cause or threaten" physical harm, as Syracuse claims, because satire by definition is "an exercise in exposure or ridicule, not a plan of action," and certainly nowhere near a "true threat" as defined by the Supreme Court.
Cohn also finds ludicrous the "fighting words" charge, considering the legal doctrine of fighting words has been "severely curtailed" by the courts and the videos only show "raucous laughter" in response to the offensive skits.
MORE: Law prof files Title IX complaint against Syracuse for Theta Tau discipline
The "discriminatory harassment" charge fails because both Supreme Court precedent and Department of Education guidance foreclose it, and there's no requisite "unwelcome" conduct or behavior even under Syracuse's own policies, Cohn writes. He continues:
Syracuse may not hold the charged students responsible for creating a hostile environment simply because others learned of their private expression. Otherwise, every private conversation would be subject to harassment charges simply because one party informed others about the views espoused during the conversation.
The community's collective offense at the videos still fails the discriminatory-harassment test because they were "isolated," he says, and Department of Education guidance makes clear that prohibited conduct is "sufficient in severity and pervasiveness to curtail" a student's education:
Would Syracuse discipline any student publicly exposed for strongly advocating for "traditional marriage"? Would the university punish a student whose private support for the Black Lives Matter movement became public if others subjectively found such beliefs hateful?
'An arbitrary despot who rules by whim'
Perhaps most egregiously, Syracuse appears to be willfully ignoring the plain language of its fraternal organization code. Cohn says it's charging the individual members and pledges for "sexually abusive" behavior that is explicitly applicable only to the "collective entity" of the fraternity.
He asks Syracuse how far it's willing to take this "sexually abusive" language: "[A] sorority that put on a production that satirized misogyny via faux-chauvinism might similarly run afoul of this prohibition."
The charged students are pretty obviously a "sacrificial lamb" offered up by Syracuse to "avoid negative publicity," Cohn concludes in the most biting section of the letter:
In bringing spurious and unduly punitive charges against these students, and clumsily rushing to conclude the disciplinary process, you have abdicated your role as educators. At best, you have assumed the role of policing the tastefulness of private student expression. At worst, you have assumed the role of an arbitrary despot who rules by whim.
In the FIRE press release, Cohn again emphasizes the "authoritarian bent" of Syracuse's prosecution and response to criticism: "Its conduct is totally unworthy of the promises it makes to students and faculty members."
MORE: 'I do not know of any student winning a Title IX procedure' at Syracuse
IMAGE: Dana Cloud/Twitter
Like The College Fix on Facebook / Follow us on Twitter