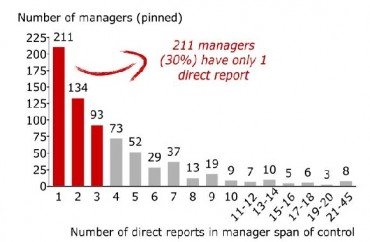 University also raised tuition while enacting other cost-saving measures
Syracuse University – a 2015 "Best Value School" according to U.S. News & World Report – recently began offering employees a retirement incentive package on the heels of an audit which found more than 200 managers oversee just one person each.
The report states 211 managers, or 30 percent, have only 1 "direct report," and another 134 managers have just two people reporting to them. Ninety-three managers have three people reporting to them, it adds, noting the private university employs "too many decision makers."
"Syracuse has a higher ratio of staff to faculty, and senior administrative staff to line-level administrative staff, than peer averages," states the report, which advises an organizational redesign to reduce administrative bloat.
In a June 30 memo to employees, the school human resources leader urged staff to accept the voluntary retirement deal, calling it "a one-time-only program and your chance to participate is now."
It's part of a financial overhaul of the private research university at a time when institutions of higher learning are often accused of excess, and as cash-strapped students nationwide become weary of the ever increasing costs of college, which have grown at a rate that outpaces inflation for more than two decades.
In fact, the belt-tightening at Syracuse comes as tuition for fulltime undergrads increased 3.5 percent for the coming school year, to $41,974, and most room and board rates were also increase by an average of 2.9 or 3 percent, according to campus officials. But they justified the increase, noting it's lower than in previous years.
Additional cost-saving measures recently employed by the university include reining in travel expenses and consolidating and revising a variety of campus vendor contracts. And Syracuse.com reports Chancellor Kent Syverud recently told individual schools to become financially self-sufficient within the next five years.
While the report, compiled by Bain & Company, was thorough and informative, it is only the first step in Syracuse University's so-called Fast Forward Syracuse initiative.
"As the higher education landscape becomes more competitive, the university must anticipate and respond to the changing needs of our students, faculty and staff," campus officials state.
Emails by The College Fix to Syracuse University officials asking how these saving measures might impact future tuition costs were not answered by press time.
LIKE The College Fix on Facebook / Follow us on Twitter
IMAGE: Bain report screenshot