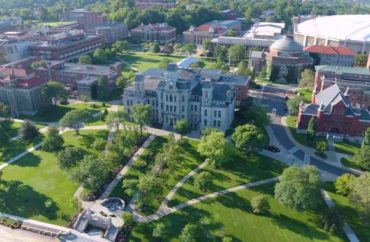 University raises tuition by 4.5 percent
Syracuse University, a private institution in New York, is raising student tuition nearly 5 percent as it kicks off a new diversity and inclusion plan estimated to cost more than $50 million.
The university will raise its full-time undergraduate tuition 4.5 percent to $58,440 for the 2022-23 academic year, according to an April 19 news release.
However, the tuition hike also coincides with the launch of Syracuse's new Diversity Equity and Inclusion plan, slated for 2021 through 2026.
The plan, under its "Faculty Diversity and DEIA Curriculum Innovation" section, allocates a $50 million investment for faculty retention and diversification in hiring, a $1 million dollar budget for 2021, and $2 million dollar budget for 2022 and beyond.
"In early March of 2021, the Syracuse University Board of Trustees authorized a $50 million investment into faculty diversity hiring and retention initiatives. While the process for accessing these funds remains under development, the commitment has been made to substantively increase the number of diverse faculty members on campus," the plan states.
The plan also gives another $500,000 to the Office of Student Living to "to hire a new assistant director of diversity and inclusion, as well as the addition of four new counseling positions and four BIPOC counselors," student newspaper The Daily Orange reported.
It also aims to increase diversity in students, staff and faculty recruitment, and to build DEI-related "institutional infrastructure"; that will include "university-provided professional DEIA development for faculty, staff and students where 'development' is understood as ongoing and 'training' is understood as one-off."
For faculty retention strategies, the plan includes the institution of "multicultural affairs offices, women's studies departments, queer theories courses, unconscious bias trainings, and social-justice-oriented excursions."
It aims to "infuse/integrate DEIA into all activities and structures of Syracuse University" and to "decolonize (modernize to be inclusive) all activities and structures of Syracuse University."
The university's new overall budget also earmarks "nearly 327 million to student financial aid," the "largest ever commitment," according to the news release.
Ryan Williams, vice president for enrollment services, told The Daily Orange it is a "historic investment in financial aid [that] will allow the university to offer a distinctive experience to diverse students from across the socioeconomic spectrum."
DEI is costly and school should 'keep it simple,' students say
The new DEI plan is "expensive," said Syracuse junior Anthony Draghi in an email interview with The College Fix. "To keep it simple, focus on who has the most amount of merit and did the most they could with what they had … the diversity will come naturally."
The increase is likely partially due to "skyrocketing inflation," but that "SU's tuition has already been too expensive," Syracuse junior Ralph Graham stated in a message to The Fix.
Augustus Leroux, chair of the Syracuse College Republicans, told The Fix in a message that even while the worth of a college degree falls in the modern economy, costs have continued to skyrocket.
"Students should weigh carefully whether a degree from a university like Syracuse may actually hurt them in the long run," he stated.
The College Fix reached out to Syracuse University through the official media request form, requesting comment.
Specifically, The Fix asked Syracuse where exactly the money from the tuition hike was going, why it chose to raise costs now during an inflationary period, how it has responded to student concerns against this move, and why it didn't use funds from its endowment to cover new needs.
Campus officials have not responded.
MORE: New Diversity, Equity and Inclusion med school track at Georgetown
IMAGE: Syracuse University/Facebook
Like The College Fix on Facebook / Follow us on Twitter