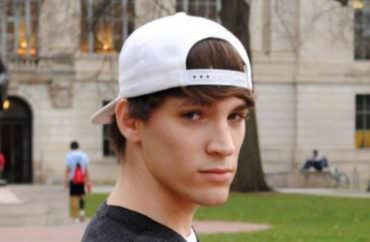 'If it looks like a duck, quacks like a duck, it's safe to assume it's a duck'
Nick Davis is someone who likes to stand up for common sense and his personal beliefs.
He certainly did that last year when he launched Students for Trump at Ohio State University, working "to help create an environment on this very liberal campus where people can openly support Donald Trump," as he put it.
Today, he continues to buck left-leaning tendencies at the state's flagship campus. Recently Davis, a member of the Undergraduate Student Government's General Assembly, declined to put his preferred gender pronouns on his name tag.
Of the 40 student senators, Davis is the only one who did not go along with adding it.
The "He/him/his" "She/her/hers" additions to the name tags were not required. Nor, Davis said, did he think it was needed, at least in his case.
"I don't think it is necessary when it comes to myself personally," he told The College Fix.
He went on, "If it looks like a duck, quacks like a duck, it's safe to assume it's a duck. I look like a male, I sound like a male, it's safe to assume I'm a male."
USG's General Assembly added new inclusivity measures this year: https://t.co/WAbDq4RO5G pic.twitter.com/U3MB5k295u

— The Lantern (@TheLantern) September 19, 2017
When asked about the current political correctness climate on college campuses today, Davis told The Fix: "Universities used to be the beacon of free speech where differing opinions were valued and encouraged. Today, PC culture and 'social justice' culture almost encourages a uniform way of thinking. Campuses now try to make people with different viewpoints think they're wrong and bad for thinking differently, when that's simply just not true."
"While it is not required in USG, only one of the 39 senators declined to include his pronouns"

"His"? Why are they assuming their pronoun? https://t.co/0vHPPJrolU

— Nick Davis (@NickEDavis) September 19, 2017
Alex Leeder, the student government's director of diversity and inclusion, told The Lantern the name tag additions were done "to be more inclusive and more conscious of asking about people's pronouns instead of assuming people's pronouns."
New student body President Andrew Jackson and Vice President Sophie Chang had also campaigned on the platform to lead a student government that is more representative of the undergraduate student body and more supportive for inclusivity.
English major and student Sen. Tony Buss said the effort is not unique to the student government.
"This is simple, really. In respect of everyone in the organization, we chose to include pronouns on nametags so everyone knows what they are, since we all have pronouns. Additionally, many OSU departments have done the same," he told The Fix via e-mail.
When asked if the student government believes it's offensive to assume someone's gender, Buss said the group "respects the gender identity of all Ohio State students as well as everyone."
Ohio State currently has a policy in place that allows students to use their preferred names on class rosters, but there is no such policy that forces students to use peers' preferred pronouns.
Like The College Fix on Facebook / Follow us on Twitter