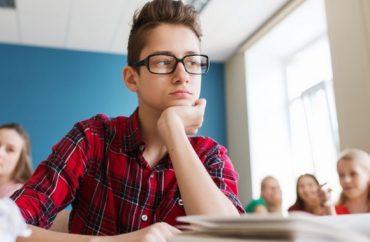 We frequently hear about the liberal bias of college professors, but what of the liberal bias of high school teachers? Do they push the same biases? My experience tells me they often do.
At my high school, I cannot recall hearing a conservative opinion expressed by a teacher, despite the fact that I lived in a conservative swath of north San Diego county. My teachers were almost entirely Democrats, and were vocal about their beliefs.
I was told by my Chemistry teacher that a single-payer healthcare was the only "fair" system. I had a World History teacher tell us that the natural and best way for society to progress was to turn to communism. Not Cuban Communism, or Soviet Communism, but "true Communism," because the Soviets just didn't implement it correctly, we were taught. I even had an English teacher who forced us to spend three months analyzing writing through a Marxist lens, because apparently we "have spent our whole lives hearing about capitalism."
MORE: New AP European History framework ignores religion, snubs Churchill, whitewashes communism
But I am not alone. In emails to The College Fix, many of my peers were easily able to recall stories of how high school teachers taught from the Left.
Craig Norton, a former student at Laguna Hills High School, told The College Fix that students were often pressured to wear red shirts to school in support of tax increases and teacher pay raises. He said students who did so would often receive preferential treatment from teachers, and that his teachers would use class time to promote the views of their teachers union.
Another student, Dylan Steinecke, recalls a high school History teacher openly advocating for a "borderless world where everyone loves and supports each other." Ironically, this same teacher was fired a few months later for punching a student in the face.
Anthony Dawson of Temecula, Calif., spent a good chunk of time in his U.S. history class learning about "American imperialism."
Education at all levels is filled with left-wing "teachers" who are determined to force their worldview onto America's young people.
It's no surprise that a system that is state-funded and state-run advocates for a bigger government.
The public school system is a microcosm of the socialist system, one that is bureaucratic, wasteful, and does not serve its original and intended purpose. Education is the cornerstone of Western society, a place where our youth are taught to think broadly and develop their own unique worldview. Instead, we are often taught what to believe instead of how to think.
This is not education, this is indoctrination, and it must stop.
MORE: Critics — New College-Prep Curriculum Paints U.S. History in Horrific Light
Like The College Fix on Facebook / Follow us on Twitter
IMAGE: Shutterstock