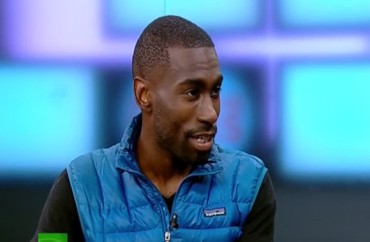 New boss doesn't care he jets off to protests
What is it with race activists who bellow "white privilege" while living in opulence?
DeRay Mckesson, who left his cushy job in Minneapolis Public Schools to lead Black Lives Matter protests across the country, not only makes $165,000 as a high-level official in Baltimore Public Schools as of last month – he's living off connections of leftist money man George Soros.
The American Mirror reports that Mckesson is living in a home "owned by philanthropists James and Robin Wood in Baltimore," who are "wealthy donors to the Baltimore chapter of George Soros' Open Society Institute."
Google Maps shows a Whole Foods and Johns Hopkins campus near the house. (For some reason the Woods' homeowner registration, obtained by the Mirror, lists the mailing address as a "suite.")
MORE: Black Lives Matter leader lands cushy gig in big school district
Robin Wood is currently a law student at the University of Maryland, according to OSI-Baltimore's website.
Mckesson is only one of many race activists getting money from Soros-backed groups like the Democracy Alliance, the Mirror says.
The Baltimore Sun reports that the new chief human capital officer's boss doesn't mind him jetting off to a Baton Rouge protest this past weekend after a week on the job: "DeRay is still a private citizen and he was on his time."
MORE: Yale pays Black Lives Matter leader to teach 'leadership'
Mckesson took Monday off but said he had already been scheduled to do that before heading to Louisiana and getting arrested for marching on a highway.
The Baltimore gig, an interim position, is Mckesson's fourth education job by The Fix's count. He taught math in Teach for America and and served as a two-day guest lecturer in Yale's divinity school last fall, besides his human resources job in Minneapolis.
Read the Mirror and Sun stories.
MORE: Parents of black hunger striker at Mizzou are loaded
MORE: 'Courage Award' for hunger striker who mocked women and the poor
h/t John Cardillo
Like The College Fix on Facebook / Follow us on Twitter
IMAGE: YouTube screenshot