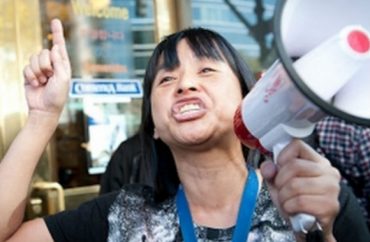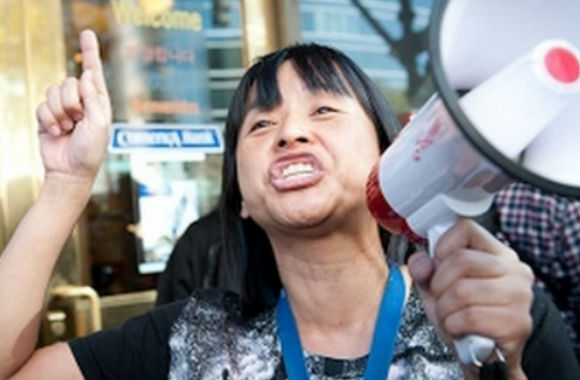 The Berkeley area teacher who pummeled a white nationalist last year, and just recently was arrested on assault charges for that attack, is claiming that "standing up to fascism is not a crime."
By Any Means Necessary's Yvette Felarca, who teaches in the Berkeley Unified School District, said at her arraignment that "Standing up against […] the rise of Nazism and fascism in this country is not a crime," and added "We have the right to defend ourselves."
As reported by The College Fix, Felarca was caught on video in June of last year "punch[ing] the man in the stomach repeatedly, before throwing him to the ground."
Others joined in on the attack, but were unable to be identified by law enforcement.
The middle school teacher was put on paid leave last September, but reinstated six weeks later. She had actually sued Berkeley Unified for back pay due to docking her 25 days pay for using sick days to attend political protests.
Felarca's insistence on her innocence at least is consistent; according to The Huffington Post, around the time of the assault she stated "They [white nationalists] are organizing to attack and kill us. So we have a right to self-defense. … That is why we have to shut them down by any means necessary."
The activist has those who agree with her … or at least ponder if physical force is a legitimate response to those on the far-right, even in the absence of an actual physical threat.
In the pages of The Washington Post, Johns Hopkins' N. D. B. Connolly writes (with the apparent belief that KKK-style lynch mobs are again an actual threat) "Segregationists have again assumed their pedestals in the Justice Department, the White House and many other American temples. Paper alone won't drive them out. Start throwing rocks."
Over at MSNBC, Southern Poverty Law Center president Richard Cohen and author Mark Bray discussed whether the far-right should be "confronted with force."
In the wake of the Charlottesville violence a cartoon has been circulating on social media that illustrates this very mindset, but which is so grievously wrong regarding the legal definition of "incitement":
…we talked about the difference between incitement and free speech (see handy cartoon here by #drawninpowerpoint) re: nazi propaganda… pic.twitter.com/LC273QHCUW

— Karmacoma❄ (@katiecarman) August 15, 2017
MORE: Demands grow to fire teacher who beat up white nationalist, joined in Milo violence
MORE: Berkeley teacher who leads leftist violence arrested on assault charges
IMAGE: Tucker Carlson/YouTube
Like The College Fix on Facebook / Follow us on Twitter