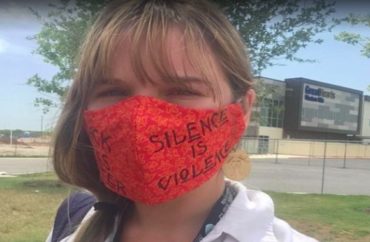 UPDATED
A San Antonio, Texas teacher has been dismissed for refusing orders not to wear a "Black Lives Matter" mask during school hours.
According to Texas Public Radio, Great Hearts Western Hills teacher Lillian White said she was asked to remove her mask "several times before she lost her job."
White did not comply because she believed wearing it was "the right thing to do."
In written correspondence with Great Hearts officials, White said she would keep wearing BLM masks until the school instituted an "anti-racism action plan."
"I will have to show up and get sent home," White wrote. "I understand the consequences, but there is no way I could live with myself if I did not stay committed to this cause." In a Facebook post, White didn't mention masks; she said she was let go due to her anti-racism plan advocacy.
White, who teaches art, also said "It's about morality, morality, morality. Truth, goodness, beauty, morality…What is moral about standing down and not supporting every student in your community?"
The now-former teacher contends school officials added masks to the dress code policy after she began wearing those with political messages. The school refused comment, but did say it has a policy "against any masks with 'external messages.'"
White's dismissal officially was recorded as a "'quit' without good cause."
Parent Raquel Zapata said "There's always been a very clear rule at Great Hearts (for all students and staff): zero pop culture, zero prints of anything political in nature or current event(s) — anything that's going to be any way distracting."
Zapata said she believes it's inappropriate for a teacher to wear a mask that says Black Lives Matter because teaching isn't the time to make political statements.

"I think there is a time and a place for everything," Zapata said. "And while I appreciate her desire to stand up for our Black students, I think she should, as a teacher, be representing all of her students."

However, Alison Collins, who is Black, said she appreciates what her son's former art teacher was trying to do.

"For me, it's not just about politics. It's about human rights," Collins said. "If my kid walks into a classroom and sees a teacher that has a mask that says Black Lives Matter or silence is violence…I would venture to think that he would be more comfortable with that teacher."
Two weeks ago, White started a Change.org petition calling on the Great Hearts Academies to implement her desired anti-racism plan. In the petition's description is a link to all of White's correspondence with school officials regarding this and the mask issue.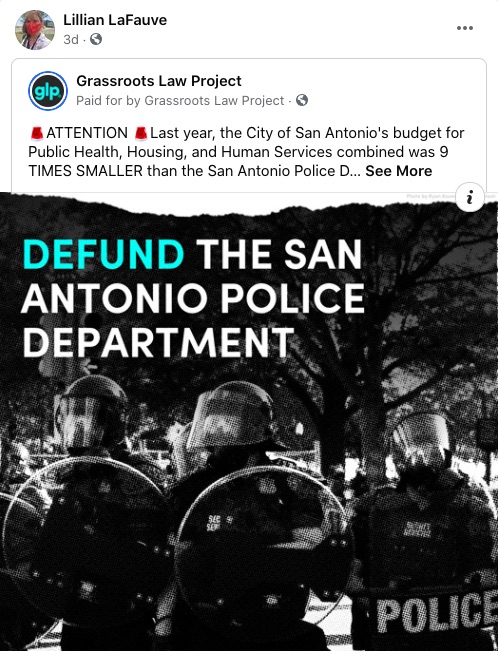 White's Facebook page is full of activism-oriented posts including support for defunding San Antonio police, a youth group dubbed Young Ambitious Activists, and a link to a story declaring San Antonio unsafe for black people (and features a photo of an activist holding a sign stating "Mutha-Fuck Police.")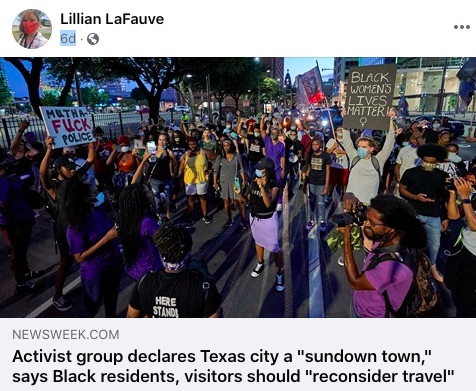 Read the Texas Public Radio article.
UPDATE: Clarification added as to the exact nature of White's departure from the school.
MORE: Teachers support Black Lives Matter, but also want to keep cops in schools
MORE: Two thousand Seattle teachers engage in Black Lives Matter protest
IMAGES: Facebook screenshots
Like The College Fix on Facebook / Follow us on Twitter