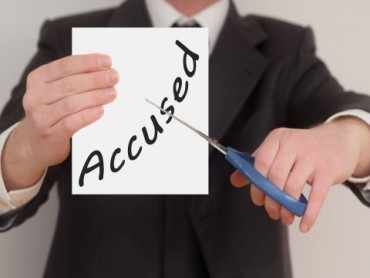 A St. Paul, Minnesota high school has been placed on "paid administrative leave" after the local Black Lives Matter organization threatened a "shutdown action" over a Facebook comment he had made.
Theo Olson of Como Park High School had complained about the lack of support teachers were getting in matters of student discipline.
On local BLM organizer Rashad Turner's Facebook page, Olson "expressed frustration over the district not providing enough support to deal with 'kids who won't quit gaming, setting up fights, selling drugs, whoring trains or cyber bullying.' The term 'whore train' is a reference to 'inappropriate sexual activity.'"
Although Olson never mentioned race in his comments, Turner subsequently referred to him as a "white supremacist teacher."
Turner and other members of BLM met with the district superintendent, Valeria Silva, this past Monday. Olson's leave began on Wednesday.
Turner said Wednesday that the move was a "great first step" and that "we need to rid the district of all employees who share the belief in the racial bias and disdain that Mr. Olson shared so comfortably."

Olson, who teaches special education and made no mention of race in his posts, could not be reached to comment.

Reports of a possible teacher sickout at Como in support of Olson circulated on social media late Wednesday.
RELATED: The real 'elephant in the room' always seems to avoid the so-called 'experts'
A veteran teacher who asked not to be identified said that teachers discussed the idea but rejected it because they want to be there for their students, and also have parent-teacher conferences Thursday.

At Como Park, Roy Magnuson, a fellow teacher who has voiced concerns about the need for greater expectations of students and consequences for those who misbehave, said: "I support Theo Olson."
If Olson is a white supremacist, he has a funny way of showing it. For, in addition to his comments about discipline, Olson had written on Turner's Facebook page that he follows BLM on social media, "and that he had marched with Turner at a protest on University Avenue."
But even if Olson had mentioned race in his observations on discipline, they are constitutionally protected.
Olson is hardly unique; 14-year St. Paul teacher Aaron Benner (who's black) quit teaching in the district over issues of student discipline. He had decided to run for the school board there — mainly to challenge the district's policies — but dropped out after landing another teaching gig at a charter school.
Benner pins St. Paul's issues squarely on the shoulders of the Pacific Educational Group, which blames (white) teacher racism for the academic achievement gap and disparities in discipline rates.
PEG was hired by SPPS in 2010 to help close the achievement gap. PEG makes no secret of the fact that its prescription for closing the gap is based on the Critical Race Theory. This theory argues that racism is so ingrained in the American way of life — its economy, schools, and government — that things must be made unequal in order to compensate for that racism. PEG pushes the idea that black students are victims of white school policies that make it difficult or impossible for them to learn. So, when a black student is disruptive, PEG, as I see it, stresses that it's not their fault, and the student should just take a break, and then return to class shortly thereafter.

Racism and white privilege definitely exist, and there is not enough space in this paper for me to share all of the humiliating encounters I've experienced that are a product of racism. But to blame poor behavior and low test scores solely on white teachers is simply wrong. However, it's the new narrative in our district, pushed by PEG.
(For more on Critical Race Theory, see here.)
St. Paul's schools would do well to listen to the concerns of people like Mr. Olson, Mr. Benner, and those noted here. Intimidating those who speak out by placing them on "leave," or trying to catch them in any sort of infraction, will in no way eliminate the issues surrounding student discipline.
RELATED: Claim: Principal required teacher to use preamble 'As I white woman, I feel …'
RELATED: Poll: By a wide margin, teachers, general public are against race-based school discipline procedures
Like The College Fix on Facebook / Follow us on Twitter
IMAGE: Shutterstock