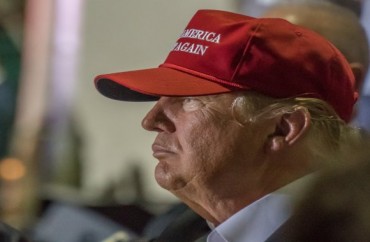 Three weeks ago at South Portland High School in Maine, student Connor Mullen began wearing a hat with the popular Donald Trump campaign slogan "Make America Great Again" emblazoned on it.
He concedes that he expected to be razzed for it by his peers (and he was) — but not by school officials.
Allegedly, a teacher told Mullen "Thank God you can't vote," and an "education technician" mocked him as an "uninformed voter" … to the laughter of his classmates.
An assistant principal had suggested that Mullen "might want to consider leaving [the hat] at home to avoid further problems."
Mullen said that advice went against everything he had been told the school stands for — like equality.
The Portland Press Herald reports:
Superintendent Ken Kunin said Monday that school officials first became aware of Mullen being hassled by other students and adults Friday, when a teacher reported that a female student had removed Mullen's hat from his head and thrown it in a trash can. Mullen said that when he talked to Assistant Principal Phil Rossetti about the incident that day, he told him about the teacher who remarked on his hat.

Kunin said school administrators "did follow up" with the teacher and the education technician, but didn't elaborate. He said disciplinary action was taken against [a] student who threw the hat in the trash, but he wouldn't be more specific.
RELATED: High school students accused of racism at basketball game due to chants of 'Trump!'
"We said, of course, 'That's not OK. You don't do that,' " Kunin said. "We defend our students' First Amendment rights."

Kunin said Principal Ryan Caron sent an email to the faculty Monday reminding them that the school should be open to and respectful of students' ideas and speech. Kunin said he experienced similar challenges during the 2008 presidential election, when he was principal of Deering High School in Portland. He reminded students who supported then-candidate Barack Obama to respect students who wore T-shirts supporting Sen. John McCain.
Caron added that Mullen is definitely allowed to continue to wear the hat (it's "protected speech"), and that he should let administrators know if he is harassed any further.
h/t to BizPacReview.
RELATED: Arizona high school bans USA, Donald Trump, and red, white and blue due to 'negative connotations'
IMAGE: Windover Way Photography / Shutterstock.com
Like The College Fix on Facebook / Follow us on Twitter