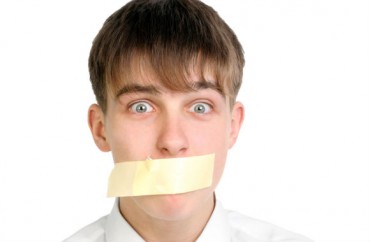 Our 2017 year-end fundraising campaign runs through Dec. 31, so please consider a tax-deductible donation of any amount to help us continue to publish the best campus news in the nation. Thanks for your support!
The American Federation of Teachers thinks its interests supersede the First Amendment. A federal court has ruled otherwise.
U.S. District Judge Linda Parker ruled Wednesday the publication of information gleaned from an undercover operation by Project Veritas, the conservative watchdog group, does not meet the Supreme Court's threshold for prior restraint: "the evil that would result from the reportage is both great and certain and cannot be militated by less intrusive measures."
She lifted a restraining order against the group that was imposed by a county judge three months ago, preventing it and its alleged infiltrator, Marisa Jorge, from publishing video or other evidence obtained during her internship at the teachers union's Michigan chapter.
The union lost on most of its claims, including that any of 221 documents it produced counted as a "trade secret" violated by Jorge, or that the terminated intern "actually installed, placed or used, without [the union's] consent, any device for 'observing, recording, transmitting, photographing, or eavesdropping,'" in violation of state law.
Its lone likely win is its claim that Jorge breached a "duty of loyalty" for her alleged access to information "outside her authorization" and "unrelated to her assignment," as well as "securing and copying information not generally available to the public" to give to Project Veritas, "an organization whose interests conflicted with" the union, Parker ruled.
But she refused the union's demand to extend "fiduciary duty" to interns, a situation for which there is no case law in Parker's jurisdiction. (Jorge allegedly portrayed herself as a University of Michigan student.)
Federal judge rules against American Federation of Teachers in lawsuit seeking prior restraint against Proj… by The College Fix on Scribd
Because "there is no evidence of any employee contract or any other agreement between" the union and Jorge, and she owes no fiduciary duty, the union loses its only grounds to stop publication of what she collected, the judge ruled.
Decades of court precedent make clear that the presumption against prior restraint outweighs the interests of organizations whose information was allegedly obtained improperly, Parker said:
As to the harm to Defendants, imposing an injunction would be a severe infringement on Defendants' First Amendment right. The Supreme Court has held that "'[t]he loss of First Amendment freedoms, for even minimal periods of time, unquestionably constitutes irreparable injury.'"
Following Parker's ruling, AFT President Randi Weingarten and AFT Michigan President David Hecker denied they were taking aim at the First Amendment in the lawsuit:
The judge's decision supports our position that we have a right of action the moment Project Veritas publishes anything illegally obtained by its operative Marisa Jorge. Today's decision gives clear warning that Project Veritas and the people working on its behalf, in this case a former Liberty University student, will be held liable for their actions. … We will be zealous in seeking full relief and damages the moment O'Keefe goes public with any of the material stolen or illegally obtained by Project Veritas associates, and in challenging media narratives that promote false propaganda in the interest of secret political agendas.
Today, a judge made clear to Project Veritas that its unlawful tactics have a price. Read the joint statement of AFT President @rweingarten and @aftmichigan President @DavidBHecker in response to the decision: https://t.co/gT4xPpsqej

— AFT (@AFTunion) December 27, 2017
Despite Parker's unfavorable finding about Jorge's duty of loyalty, Project Veritas itself portrayed the ruling as a win, focusing on her First Amendment analysis.
Its lawyer Ben Barr predicted "continued victories in courts nationwide as we demonstrate that exposing fraud, corruption, and abuse is at the core of our national commitment to free speech," and founder James O'Keefe said the group will "fight tooth and nail, and we will win," against any other groups that "make frivolous claims against us."
Oh no big deal just the fact that Randi Weingarten tried to prevent us from publishing abuses inside Teachers Union and a Federal Judge OVERRULED her. https://t.co/8CD15Ir2oH

— James O'Keefe (@JamesOKeefeIII) December 28, 2017
The union's lawsuit suggests that Jorge, using a pseudonym, was interested in exposing "sexting" between teachers and students, according to The Washington Post.
Read the ruling, AFT statement, Project Veritas statement and Post coverage.
MORE: Project Veritas shows Vassar official shredding 'triggering' Constitution
IMAGE: Sabphoto/Shutterstock
Like The College Fix on Facebook / Follow us on Twitter