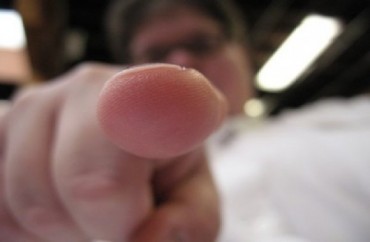 Five teachers in the Cheltenham School District near Philadelphia have been given a formal reprimand for a survey they circulated among staff regarding school violence.
Cheltenham High School recently was the site of a major brawl in which seven teachers and three security personnel were hurt. On that same day, the teachers involved with the survey received their official admonitions.
According to Philly.com, the district's official reason for the discipline measure is that the teachers "publicly disseminated the survey, which included accusations against specific students."
However, one of the five, Jon Manser (who happens to be vice president of the local teachers' union) said that none of those reprimanded is responsible for the survey becoming public. "We broke no laws or district policies, and we were still disciplined," he said.
The union has filed an unfair labor practice charge with the Pennsylvania Labor Relations Board.
[Manser] said the document was intended only for the district's 400 teachers and the administration, with the hope that the district would address long-standing complaints about school climate. Instead, Superintendent Wagner Marseille disciplined the union members. …

After the fight, the district said it would take action to deal with discipline and other issues, posting more safety monitors at the high school, shortening lunch times, getting help for problem students, and clarifying discipline policies, among other actions.

The union also filed a grievance with the school district that, if not resolved, could go before an arbitrator.

"You can't cover up these public-safety problems with private reprimands," Manser said. "We won't let the district try to bury our community's concerns by threatening union leaders."
Anyone still wonder why the growth of charter schools continues?
MORE: Recent melee at Philly school was predictable … if teachers were listened to
MORE: Progressive enclaves growing weary of ridiculously lax school discipline policies
Like The College Fix on Facebook / Follow us on Twitter
IMAGE: a2gemma/Flickr