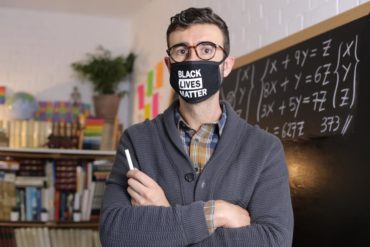 Teaches how to bring race and LGBT 'advocacy' into the classroom
A University of North Texas course trains future K-12 educators to use classrooms as spaces for liberal race and sexual activism through materials on racial justice and LGBT identity – and calls teaching a "political act."
The course, "Teaching as Advocacy for Equity," focuses on "structures of social and educational inequality, as they relate to race, class, and gender" and how teaching can be "a form of intervention" to change society through "cultural reproduction," according to a spring 2023 syllabus. The course counts as core credit for UNT students seeking teacher certification. It employs materials from the liberal Southern Poverty Law Center and "anti-racism" advocates such as Professor Ibram Kendi.
The College Fix asked the university's media team via email how long it has taught the course, whether it is possible for someone to obtain teacher certification without the course, why it is necessary to train future educators to be social justice activists and how the university viewed parental authority over a child's education regarding topics such as race, gender, and sexuality.
UNT's media team did not respond to inquiries sent in the past two weeks.
The Fix also sent two emails with the same questions to Jeannette Ginther, a senior lecturer in the Department of Teacher Education and Administration who has taught the course multiple times, but she did not respond.
The Fix contacted current instructor Danelle Adeniji for comment on the course, including her views of parental authority on topics such as race and gender. She did not respond to a request for comment sent on March 2 via email.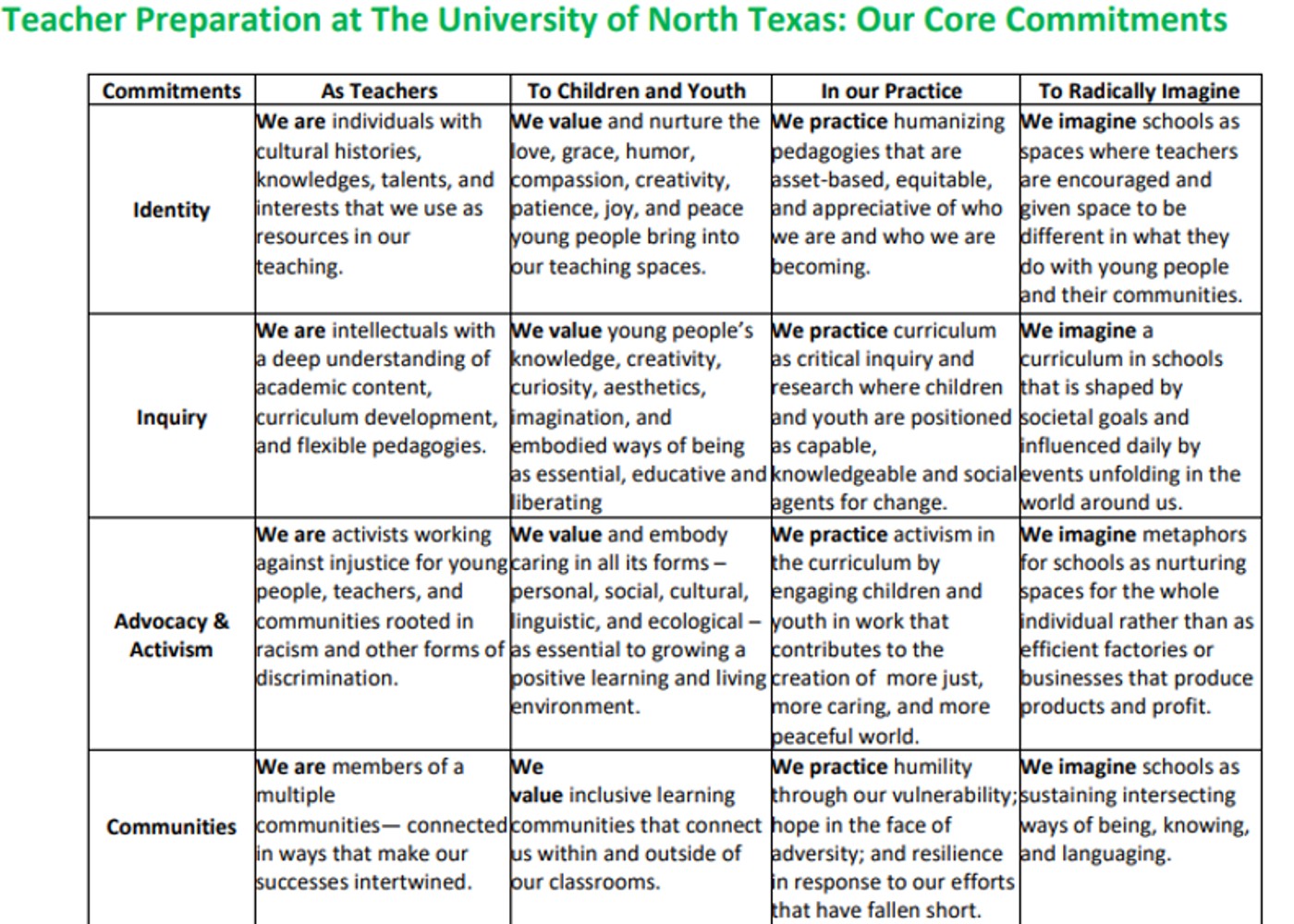 "While teaching has always been a relational and intellectual endeavor, we acknowledge that teaching is also both an ethical and a political act," according to a UNT statement in each syllabus.
A list of "core commitments" for future teachers states that "[w]e are activists working against injustice for young people, teachers, and communities rooted in racism and other forms of discrimination.
Education reformers criticize course
Higher education reform advocates expressed concern for UNT's mission in comments to The Fix.
"The purpose of higher education should be to promote honest intellectual dialogues in search for the truth," Wenyuan Wu at Californians for Equal Rights told The College Fix via email.
"Sadly, like many other departments and majors, teachers' colleges or schools of education, as an integral part of higher education, have strayed far away from their truth-seeking mission to embrace divisive, illiberal and unproven ideas such as diversity, equity, and inclusion," Wu told The Fix.
"Equity, for instance, has become a catch-all euphemism for equal outcomes, which is completely antithetical to equality and equal treatment," Wu said.
Wu said that training future educators in these ideas "perpetuates the indoctrination pipeline."
"Teacher activists, obsessed with critical pedagogy, race-based thinking and far-left dogmas, are not equipped to educate young students in a constructive and balanced manner," Wu said. "Neo-Marxist lessons like 'Teaching as Advocacy for Equity' weaponize these teacher activists to proselytize their political beliefs in K–12 classrooms and thought-capture young kids."
Wu said that this approach is "prevalent" in teacher education, pointing to "anti-racist" instruction at the University of Pennsylvania Graduate School of Education. The Association of Teacher Educators also promotes "equity" for teacher educators, the education reform advocate told The Fix.
David Randall, director of research at the National Association of Scholars, called the course "harmful" and said that it contradicts the purpose of education.
"Higher education–all education–should educate students to inquire into truth. Any course that trains social justice activists, who believe that every activity must be subordinated to the pursuit of power, cannot inquire into truth," Randall told The Fix.
"No classroom, whether K-12, undergraduate, or for teacher training, should dedicate itself to the 'social justice' pursuit of power," Randall said. "If it does, it cannot and does not educate."
Randall called for legislative reforms as a solution, including NAS' Education Licensure Nondiscrimination Act.
"Depoliticizing teacher education is an absolute priority for Americans," Randall said.
Course includes info from leftist scholars and groups
The course appeared in UNT's catalog as far back as the 2021-22 academic year.
Weekly course materials in the syllabus included articles by the leftist advocacy group Southern Poverty Law Center, such as, "Queer People Have Always Existed – Teach Like It" and "The Weaponization of Whiteness in Schools."
One piece, "Teaching Kindness Isn't Enough," argued that schoolchildren must be taught group-based "justice."
Students also listen to and discuss an audio series on racial integration in schools by Nikole Hannah-Jones, who has claimed that white people are willfully segregating schools through systemic racism. She is also the author of the widely discredited "1619 Project" that claims America was founded to preserve slavery.
Another video features "anti-racist" scholar Ibram Kendi, an admirer of critical race theory who has been criticized for encouraging "present discrimination" to atone for past injustices against minorities.
Some materials in the course are specifically marketed for children, such as the picture book, "Not My Idea: A Book About Whiteness," which has been used in classrooms across the country. The message of the book discourages colorblindness and labeled racism "a white person's problem."
Another syllabus from Fall 2022 listed the Kendi book "Stamped (For Kids): Racism, Antiracism, and You" as required reading.
There is also a video in the spring syllabus on how to talk to children about preferred pronouns such as "they."
MORE: Iowa Republicans ask why future teachers learn about 'compulsory heterosexuality'
IMAGES: University of North Texas; AJR_Photo/Shutterstock
Like The College Fix on Facebook / Follow us on Twitter