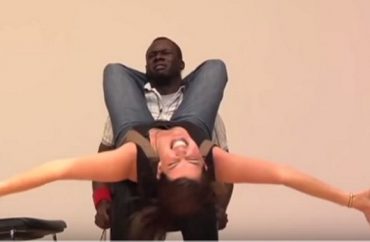 In this day and age, a softly murmured "stop" given by a female student and ignored by a male student as they get hot and heavy is often defined by Title IX campus administrators as sexual assault — regardless of whether everyone agrees that scenario constitutes rape.
With that, colleges this fall will work to educate students on exactly what "affirmative consent" means and how to follow it. But the yes-means-yes subject can be a tough one to tackle, which is why many colleges now hire a company that infuses humor into the lesson in the hopes that students will relax, and therefore learn better.
Catharsis Productions' humorous "Sex Signals" is a popular sexual assault prevention program, and the company tells The College Fix it expects to perform it at nearly 175 campuses this year.
"[We] understand how difficult these conversations can be," its spokesperson Fleur  de Vries told The College Fix via email. "Utilizing humor helps reduce peoples' anxiety to talk about these topics and opens up real dialogue. We understand that rape isn't a mens' problem, it isn't a womens' problem, it's an everybody's problem and we all have to come together to stop this from happening."
MORE: College students given five-step checklist on how to kiss without committing sexual assault
MORE: 'Yes means yes' standard affirmatively baffles NYU students
MORE: Sex partner must say 'yes' every 10 minutes or it's rape
MORE: Students taught how to have sex legally by mandatory-attendance musical numbers
 The company's mission statement is to "change the world by producing innovative, accessible and 
research-supported programming that challenges oppressive attitudes and shifts behavior," its website states.
The lessons are given by trained professionals in a series of improv-inspired skits in front of a student audience. After the jokes, however, comes some reality.
"Something you don't hear too often in the middle of an improv set: 'Okay, and for the next scene, my opening line will be 'I really didn't rape that girl.' … Employees of the company behind the show … call it the 'rape bomb.' The first half is funnier," The Atlantic reported in 2014.
The report also detailed a scene in Sex Signals in which a female college student invites a friend over to study.
[T]hey have some beers. Eat a pizza. She kisses him first. There's some tickling and wrestling … and they end up having sex. Great, except that she said 'stop,' whispered 'stop,' and he kept going. 'That's sex without consent. That's rape,' [the program specialist] says…

We break down the reasons that they want to hold the girl responsible. All these victim-blaming things: She was drinking, she didn't do more to stop him, she was sending mixed messages. We talk about the difference between reducing your risk from a situation versus being able to prevent that actual situation from happening. We then start talking about why it's important to hold the guy accountable for what he did.
Catharsis Productions says it focuses on cultural change rather than a simple lecture in legality or discussion of myths versus reality.
Reuters reports that Gail Stern, the chief academic officer of Catharsis Productions, co-created and first performed "Sex Signals" more than 15 years ago and now trains and supervises a staff of 30 performers. Stern told the outlet that the script is "simultaneously shocking and disruptive of our pattern of belief. And when we laugh we internalize the material differently."
As for how the company defines the terms, DeVries told The College Fix that "affirmative consent means that everyone understands what's happening, everybody is voluntarily being part of this and it's a mutual decision. No threats, no coercion, no manipulation, and no force (physical, verbal, or emotional). Consent is given in both words and actions."
"Sex Signals" educates students — and even corporations and the military — about sexual assault, she added. It aims to impart that:
"Understand that consent must be active (e.g., verbal) and ongoing for it to be present."

"Understand that everyone plays a role in stopping sexual violence."

"Understand that the sexual initiator is responsible for being certain that consent is present."

"Understand how our culture enables predators— or, people with power and status— to exploit vulnerable people."

"Understand that people across gender identities, sexual orientations, race, ethnicity, religion, ability, and class can be victims of sexual violence."

"To frame prevention of rape as a community responsibility, not an individual victim's responsibility."
Like The College Fix on Facebook / Follow us on Twitter
IMAGE: YouTube screenshot