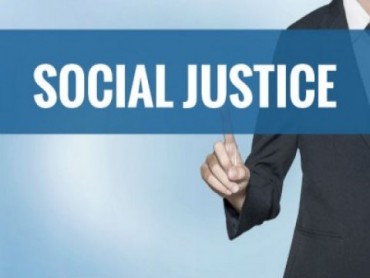 A few days ago the St. Louis Post-Dispatch published a story on how some local teachers were turning their classrooms into "hubs of social justice."
One of the featured educators is Sarah Miller, a nice white lady who studied social policy at Northwestern. Refreshingly, much of what she says appears rather fair and balanced, which is unlike that of a lot of other social justice advocates.
For example, she doesn't want students to apologize for their "privilege" or for using "wrong" terminology ("I make it very clear, I repeat, I am not trying to 'guiltify' anybody"), and she presents a balanced approach to history, pointing out the good and the bad ("She makes sure to include in her curriculum American-European reformers who fought alongside African-Americans to end slavery and black oppression to prove that people can and have fought for change across racial lines.")
However, this worthy zeal for fairness and lack of being judgmental comes at the price of ignoring reality (emphasis added below):
Two of Sarah Miller's former students were arrested while peacefully protesting the not-guilty verdict in the murder trial of former St. Louis police Officer Jason Stockley. The Clayton teacher was proud.

Miller, an American history teacher at Wydown Middle School, has taught her students for years how reformers, from 19th-century abolitionists to the first black U.S. congressmen, fought for change. She was proud to see that her two students had also identified a change they believed in, then stepped forward to make it happen.

Miller […] said she understands why people are upset at the acquittal of Stockley, a white officer who was charged with wrongly killing a black drug suspect. Regardless of the specifics of the case, events such as killings by police seem to happen to African-Americans over and over, she said. But Miller did not join the protesters after the verdict.
In addition, student artwork included in the piece features the name … Michael Brown.
Let that sink in: Miller is proud of her students for protesting for a "change they believed in" (and getting arrested for it), but the "specifics of the case" be damned because "killings by police seem to happen to African-Americans over and over.
Does not social justice require … facts? 
This situation reminded me of school district with which I am familiar where a (black female) administrator had been let go for violating proper student discipline procedures. At the time, this admin had been in charge of a student play production which happened to be a "The Wiz" -style musical.
At the end of that school year, the principal pointed out to teachers that a end-of-year student survey indicated many black students believed that the administrator in question was relieved because she opted for a black-themed theatrical performance. 
MORE: St. Louis-area teens are getting Michael Brown college scholarships
"Okaaaaay" many teachers responded. "Did any of you correct this misperception among the students?" they asked the remaining administrators.
"This is their reality," the principal responded.
Wow. Is this what social justice requires? How does this help historically marginalized Americans?
Of her two student protesters and other students, Miller said (to a group of educators at a recent social justice teach-in):
"I decided that my way of protesting was to be the teacher that I am and to teach my students. I can teach them the roots of this, to historicize it, to help them understand the anger the community feels, to help them understand how they can make change."
That's terrific, Ms. Miller, but while police brutality and its context within African-American history is a quite worthy topic of discussion and debate, saying things like "regardless of the specifics of the case" and invoking names like Michael Brown during lessons about racial justice are incredibly counterproductive.
MORE: Educators waste no time pushing social justice lessons in wake of Charlottesville violence
MORE: Social justice has a 'liberal bias,' diversity official tells colleagues
IMAGE: Phu Shutter/Shutterstock
Like The College Fix on Facebook / Follow us on Twitter