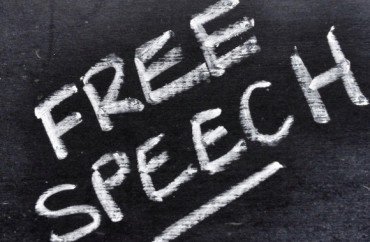 Act would also prohibit the disciplining of students for microaggressions
Tennessee's state legislature is slated today to consider a bill that aims to provide sweeping protection to college students' free speech rights on campus – including outlawing bias-reporting systems.
The act aims to prohibit universities from "establishing a system for students or other persons to report incidents of mere bias, where no threats or harassment occurred."
It also seeks to ban institutions from "punishing, disciplining, or censuring students for the content of students' lawful speech by way of or through any of the faculty, employees, or organizations of the institution."
"The best kind of educational environment is one where there's a lot of controversy and conversation about various issues, and we encourage students to speak up," state Rep. Martin Daniel, a Knoxville Republican, said in an interview with The College Fix.
The act also seeks to prohibit the disciplining of students for microaggressions.
"We want our students to be prepared for the real world, and those classes of speech that might be considered microaggressions just happen in the real world," Daniel said.
RELATED: 'Unwanted jokes,' 'disparaging comments' sought under UC 'intolerance' reporting system
RELATED: Wesleyan president defends free speech, swats down demand for microaggression reporting system
Daniel introduced the bill, called the Tennessee Student Free Speech Protection Act, in January. The state's education, administration and planning subcommittee is scheduled to conduct a hearing on it March 15.
"We're hearing from students that they're not comfortable with speaking up," Daniel said. "The universities, they're not taking action, they're not confirming the First Amendment rights of students, so the legislature has to step in, in my opinion."
The bill, HB 2063, also calls on governing boards to stop any mandatory use of
trigger warnings. Campus leaders, under the bill, must also protect students' rights to peacefully assemble, and prohibits free speech zones, which are areas set aside for demonstrations that essentially restrict the ability of students to exercise their free speech rights anywhere on campus.
The act, which has also been introduced in the state senate, requires the creation of campus policies that would allow "free, robust, and uninhibited debate and deliberations" and asks officials to frequently reaffirm a commitment to such principles.
Such policies should promote mutual respect and civility, but the lack of that may not justify shutting down discourse "no matter how offensive or disagreeable the ideas may be to members of the community," the act says.
RELATED: Penn State asks students to report microaggressions to administrators
Policies also cannot protect students from ideas and opinions that are "unwelcome, disagreeable, or even deeply offensive," it adds.
Daniel's bill does permit some restrictions. The university can prevent unlawful speech or that deemed defamation by the court. Speech that conflicts with the college's ability to educate or that breeches privacy or confidentiality may be silenced. A university may also prevent speech in certain locations at publicly specified times so long as it is from a content-neutral position.
Universities may also stop harassment, which is defined as "conduct directed toward a person that is so severe, pervasive, and objectively offensive that it could be said to deprive the student of access to the educational opportunities or benefits provided by the institution."
Daniel reached out to the Foundation for Individual Rights in Education for feedback on and guidance in writing up the legislation in regards to the definition of harassment and safety zones. 
"Overbroad harassment codes are the single most common form of censorship on college campuses that FIRE sees," FIRE Legislative and Policy Director Joe Cohn told The College Fix.
Daniel's bill states that, historically, Tennessee universities have embraced freedom speech. But "in recent years, state institutions of higher education have abdicated their responsibility to uphold free speech principles, and these failures make it appropriate for all state institutions of higher education to restate and confirm their commitment in this regard," the act states.
The legislation relies on the Chicago Principles, a statement produced by the Committee on Freedom of Expression at the University of Chicago last year. The principles affirmed the importance of the freedom of expression on college campuses. Other universities have adopted similar principles.
"FIRE has an active campaign…to urge universities to adopt the Chicago Principles," Cohn said. "Very few schools have written policies that completely respect their students' free speech rights. Legislative action to reverse that trend is very encouraging."
No state has laws that are as comprehensive as the act under review in Tennessee, according to Cohn. Washington state has a similar bill to Tennessee's currently pending. Virginia and Missouri have laws banning free speech zones.
RELATED: Campus free speech bill stumbles after students, professors complain it's too excessive
Daniel said he is optimistic about the future of the bill after speaking with other legislators. The initiative received accolades from Tennessee Republican Congresswoman Marsha Blackburn, for example.
"I applaud them for pushing this legislation forward," Blackburn told The College Fix.
If passed, the law would go into effect July 1, 2016.
RELATED: Evangelical university caves to student activists' demand for microaggression reporting system
Like The College Fix on Facebook / Follow us on Twitter
IMAGES: Shutterstock