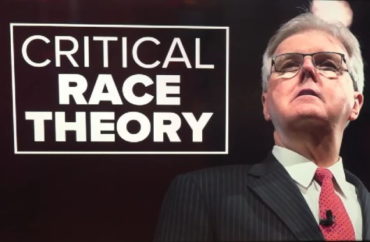 Another proposal is to eliminate tenure 
Texas Lieutenant Governor Dan Patrick's recent announcement that he will pursue legislation to curb Critical Race Theory in the state's public universities is stirring controversy among professors, with some praising the move and others slamming the proposal as a violation of academic freedom.
Patrick, a Republican who serves as president of the Texas State Senate and plays a leading role in shaping the chamber's legislative agenda, pledged that state lawmakers would consider bills that would "eliminat[e] tenure at all public universities in Texas" and "define teaching Critical Race Theory in statute as a cause for a tenured professor to be dismissed" during the upcoming legislative session.
The plans drew backlash from professors at some of the state's largest public universities. Faculty councils at the University of Texas at Austin and Texas A&M University quickly passed resolutions condemning the lieutenant governor's attempt to crackdown on CRT.
UT Austin professors blasted the proposal as a "pernicious" attempt to restrict the academic freedom of educators who "seek to teach the truth," while Texas A&M faculty said that attempts to limit the teaching of CRT are "damaging the reputation and future of public higher education in Texas."
Kevin Cokley, an educational psychology and African American studies professor at UT Austin, defended his faculty council's resolution and claimed that CRT provides students with an accurate representation of U.S. history, according to the Austin American-Statesman.
"It is absolutely essential that students have an accurate understanding about that history of race," he said. "Any suggestion to water down or to avoid those because of supposed psychological distress among students is absolutely ridiculous."
Patrick vigorously disputed these assertions, responding in a statement that "tenured professors must not be able to hide behind the phrase 'academic freedom,' and then proceed to poison the minds of our next generation."
The lieutenant governor wrote that he was "outraged" by widespread faculty support for the teaching of CRT, and by the UT Austin faculty council's claims to the state legislature and the university's Board of Regents that the content professors teach students is "none of their business."
"Universities across Texas are being taken over by tenured, leftist professors," Patrick said. "It is high time that more oversight is provided."
In an interview with The College Fix, UT Austin Professor Richard Lowery voiced his support for Patrick's proposal to discipline taxpayer-funded professors who teach CRT, conveying "relief that some of the people ultimately responsible for what goes on at public universities in Texas are finally paying attention."
Lowery, an associate professor of finance at UT's McCombs School of Business and an outspoken opponent of CRT, told The College Fix that "diverting state resources to political activism cannot be allowed" and that professors who do so should be "removed" from their teaching positions.
However, Lowery expressed skepticism towards Patrick's push to end tenure for all new faculty hires, warning that abolishing tenure would "almost certainly" result in Texas universities' ability to hire and retain "high-quality faculty" being compromised. According to Lowery, "The sort of distinguished senior faculty" UT Austin needs to "start fixing [its] problems" will likely "not come without tenure guarantees."
Princeton University Professor Keith Whittington echoed concerns regarding faculty recruitment and retainment in the absence of tenure.
Whittington, a professor of politics at Princeton and the chair of the Academic Freedom Alliance, told The College Fix that he knows of several professors who are "reconsidering working at state universities in Texas given the potential political risks to their future working conditions there."
Calling the proposals "deeply troubling," Whittington maintained that Patrick's attempts to ban the teaching of CRT will do more harm than good and could easily result in the same standards being applied to conservative professors, noting that "the kind of reform [Patrick] proposes will put professors across the ideological spectrum at the mercy of campus administrators."
"It is quite evident that academic freedom is at serious risk when not paired with the kind of procedural protections offered by tenure," Whittington said. "If professors instead worry that they will be fired for telling the truth as they see it, they will either be forced to suppress opinions and ideas that might be controversial or take their services elsewhere."
Lowery dismissed claims that restrictions on the teaching of CRT would infringe on faculty members' academic freedom, since in his view, academic freedom already doesn't exist at UT Austin.
"There is no sense in which anything the Lieutenant Governor might do can really jeopardize academic freedom at UT, given how far away we are from that ideal currently," Lowery said. "As it stands, the CRT infrastructure shuts down dissent at UT, and it makes no sense to say that actions against CRT harm academic freedom — at most it would restore something like a reciprocal arrangement."
"Academic freedom for only CRT approved ideas is not academic freedom at all," he continued. "The CRT practitioners currently control the policy disciplinary infrastructure to make sure they can enforce their ideas on campus."
Representatives of Lt. Gov. Patrick's office and the University of Texas at Austin did not respond to requests for comment.
MORE: Here's how schools hide Critical Race Theory in the curriculum: expert
IMAGE: YouTube screenshot
Like The College Fix on Facebook / Follow us on Twitter