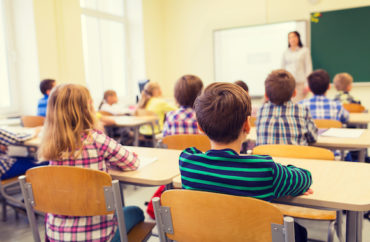 "How does a white in-service teacher facilitate race talk while reading and discussing shared texts with students in the elementary classroom?"
That was the focus of a study by Annie Daly, assistant professor of literacy studies at the University of Texas at Arlington, who wrote about her results in her recently published paper "Race Talk Moves for Racial Literacy in the Elementary Classroom."
"Teachers must engage students in ongoing, critical discussions and be proactive in noticing and naming racist ideologies as they surface in classroom talk and texts," Daily argued in her article published in late November by the Journal of Literary Research.
Daly did not respond to a recent request for comment from The College Fix.
"Teacher. researcher. I am a white cisgender woman and fight for racial justice w/ humility and persistence," her Twitter bio states. Her tweets are protected.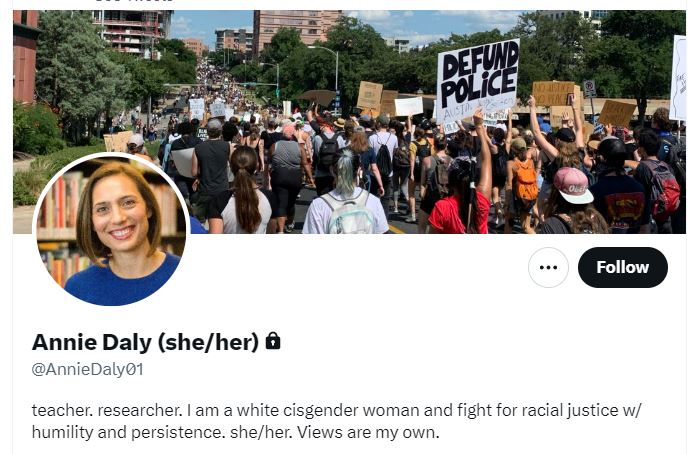 As an assistant professor of literacy studies in the College of Education at UT Arlington, Daly teaches the state's future elementary school educators how to manage their classrooms.
In her article, she writes elementary school teachers "need to be talking about race."
In particular, such conversations should take place "while reading and discussing literature to empower students of color and white students with knowledge and tools for under-standing, analyzing, and disrupting racism."
Such race talk "must be ongoing in order for students to develop the knowledge and skills needed to interrogate how racism and whiteness are perpetuated through texts, language, and social norms," Daly's article added.
However "Classroom race talk is often difficult to sustain, especially for white teachers whose racial identities influence how they resist or comply with dominant social and political discourses that silence conversations about race."
"Research consistently shows," she wrote, "that white teachers often fall short in talking critically about race by drawing on ideological frameworks of neutrality and race evasion that minimize the history and continued impacts of racial oppression."
Therefore, to help future elementary school teachers better facilitate race talk with their students, Daly devised a study to "examine how one elementary teacher employed multiple discursive practices to scaffold students' racial literacy development during whole-class read-alouds."
Daly wrote that she spent 10 months acting as a participant observer in the fourth grade classroom of an elementary school teacher referred to by the pseudonym Ms. Allen, whom she described as a white cisgender woman in her eleventh year of teaching who had "developed a yearlong literacy curriculum focused on culture, race, and equity."
During that 10-month period, Daly reported that she joined Ms. Allen's class twice per week prior to the school's shift to online learning in March 2020, and then sat in on a limited number of Zoom classes during the final two months of the school year.
Over the course of the school year, Daly reported observing "31 conversations about race and racism, 16 of which occurred during whole-group read-alouds."
"On average," Daly noted, "the discussions lasted approximately 13 minutes, ranging from just a few minutes to more than half an hour."
Topics covered included "how white 'founding fathers' enslaved Africans and African Americans, the possibilities and challenges of the Reconstruction era for Black liberation, and child activism during the civil rights movement," as well as "contemporary issues, including Colin Kaepernick's protest of police brutality, immigration, and the Black Lives Matter movement."
Another topic discussed was that of black hair after a particular white, male student portrayed by Daly as something of a troublemaker or class clown made a comment suggesting he found afros to be weird as Ms. Allen was reading an illustrated book with her class.
According to Daly, this particular student "struggled to recognize Afro hairstyles and perhaps the Black women depicted in the text as contemporary, everyday examples of beauty and excellence."
When interpreting her observations of the 16 read-alouds, Daly reported employing a discursive framework based upon the "assumption that ideologies of whiteness are actively constructed in the everyday ways people talk, silence, and interact with issues of race."
Through her study, Daly reported identifying five categories of "race talk moves."
These included "listening," "participating," "synthesizing," and "challenging," which she noted had been documented previously. She also highlighted a fifth she referred to as "anchoring."
Collectively, the five moves were means by which Ms. Allen facilitated classroom conversation by prompting discussions, signaling understanding or requesting clarification when students spoke, bringing new ideas into conversations, addressing purported misconceptions or instances of racism, and keeping conversations on topic.
By identifying these moves and reporting them in her study, along with her observations of Ms. Allen, Daly claimed she provided "a 'positive discourse model' of what elementary educators can do to initiate and sustain classroom race talk."
However, Daly added, "Much more research…is needed at the elementary grade level to understand how children and teachers make sense of race, racism, and antiracism while reading and discussing shared texts."
"Research informed by critical theories of race and discourse," Daly emphasized, "is needed to illustrate how dominant racial ideologies and norms of whiteness are constructed, contested, and ultimately changed."
MORE: At UT-Austin, teaching white 4-year-olds that they're racist is funded by taxpayer dollars
IMAGE: Syda Productions / Shutterstock
Like The College Fix on Facebook / Follow us on Twitter