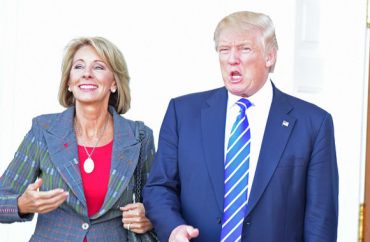 Following a threat assessment ordered by the US Attorney General, security for Secretary of Education Betsy DeVos* is costing taxpayers close to $1 million per month.
According to NBC News, the protection given to DeVos by the US Marshals Service is "unprecedented" with the marshals noting "a threat to her safety exists."
The marshals service would "not elaborate" on the threat, and the NBC story doesn't mention any of the shenanigans that may have contributed to the threat assessment — only that DeVos "was controversial not only in Congress but by parents and teachers who protested across the nation."
The Department of Education will reimburse the marshals $7.78 million for protection from mid-February through September, and payments will continue over the next four years.
No other cabinet-level official is being guarded by federal marshals and the last time that happened was in 2009 for the director of the Office of National Drug Control Policy, which is no longer a cabinet-level job, said Drew Wade, spokesman for the U.S Marshal's Office.

The Washington Post first reported the security detail and dollar amounts involved.

Another spokesperson for the marshals service, Lynzey Donahue, said the agency is unaware of the marshals service providing a protective detail for an Education Secretary in the past. …

Previously, members of an in-house security team guard the secretary, and those individuals remain on the payroll but have not been assigned new duties, the Washington Post reported.

Meanwhile, the Marshals Service is hiring nearly two dozen people specifically to guard DeVos, the Washington Post reports. …

While the extra expense may be a pittance compared to the department's overall budget of more than $68 billion, it comes amid proposed cuts for the department by President Donald Trump, whose budget seeks a funding reduction of 13 percent. Congress approves the budget, and it could be changed.
Back in February, angry protesters confronted Secretary DeVos at a Washington DC middle school temporarily preventing her entrance. One demonstrator screamed in DeVos's face "Go back! Shame, shame!"
Leading up to her US Senate confirmation folks ranging from Robert Reich to Michael Moore, and outlets such as Slate, The Daily Beast, and Vox attacked DeVos as a "zealot," on a mission "to destroy our public schools," and potentially making "life hell for LGBT youth."
MORE: The Left loses its mind over Betsy DeVos
MORE: Educators rip DeVos after crying for 16 years about massive fed. meddling
Like The College Fix on Facebook / Follow us on Twitter
IMAGE: Shutterstock