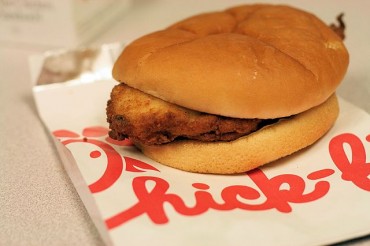 Davidson College has suspended Chick-fil-A because, well… you know why:
Students led a petition to ban the restaurant chain from monthly "After Midnight" events — free food and entertainment events from midnight to 2 a.m. run by the Union Board, a student activities organization. The nighttime events sometimes feature Chick-fil-A sandwiches.

The Union Board has decided not to schedule Chick-fil-A sandwiches until they get more feedback from students.

"The college Union Board has said in light of the petition, they are not going to schedule Chick-fil-A sandwiches until they can get student input from students on the situation," Bill Giduz, director of media relations at Davidson College, told News14 Carolina Tuesday.

The chicken chain has been under fire since last month from gay marriage activists for Chick-fil-A president Dan Cathy's comments in support of traditional marriage. The chain has stressed that it does not discriminate on the basis of race, religion, gender, or sexual orientation.

Union Board president Adriana Nassar and vice president Cameron Joe claim they are trying to create an inclusive environment for the student body.
Read more at The Daily Caller