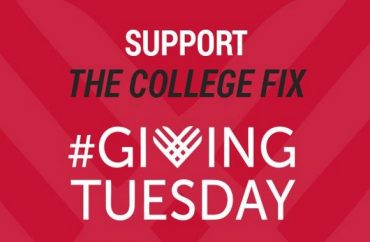 Dear Friend of The College Fix,
Your Thanksgiving may have looked different this year, but nevertheless we hope you had a safe and joyful holiday!
At The College Fix, we've been cranking out stories on liberal bias in higher education, the campus culture wars, the onslaught of critical race theory, attacks against freedom of speech, and much more! We've been busier than ever.
And we wanted to take some time to reflect on the last 12 months. 2020 was not only our 10-year anniversary, but it was also our most successful year yet with well over 10.5 million readers and an all-time high of 16.5 million pageviews and counting.
On behalf of The College Fix staff and student contributors, I can say, without a doubt, that we couldn't have done this without you. I hope you know how much your support has achieved this year.
Here at The College Fix, we're kicking off the year-end charitable giving season with a goal of raising $5,000 on #GivingTuesday. Your renewed support will help us get bigger and better in 2021. We already have a number of exciting developments in the offing, including an advisory board that will formally launch next year.
This new advisory board features some of the most prestigious names in journalism: Tim Carney, Mollie Hemingway, Heather Mac Donald, Salena Zito, Victorino Matus, and Kim Strassel. These veteran and well-respected journalists will help mentor College Fix student journalists and connect them with opportunities in 2021 and beyond.
Remember: it is your generous support that makes this possible!
As you know, the mainstream media exposed its true nature this election year. They were a disgrace, and their bias and distortion very likely skewed the race for the presidency.
Meanwhile, liberal radicals continue to dominate America's campuses—but thanks to your support, The College Fix is doing something about it! We're training young journalists to fight misinformation on campus today and in our nation's media tomorrow.
These young journalists are being launched into professional journalism careers—our ultimate goal. Just take Drew Van Voorhis, a recent graduate of San Diego State University who landed a job as a reporter for the Epoch Times.
He shared about his new post-grad position on Twitter recently:
Never would have happened without @CollegeFix, eternally grateful for the experience and guidance they gave me. https://t.co/MEZa5WSTPq

— Drew Van Voorhis (@DrewVanVoorhis) September 17, 2020
"Never would have happened without @CollegeFix, eternally grateful for the experience and guidance they gave me."
That's why your gift matters so much. Without you, we can't funnel a pipeline of principled young journalists that will restore truth-telling and integrity to our press and higher education.
We hope we can count on you to join us this #GivingTuesday—your generosity makes a real difference on college campuses and helps us fill the gap in conservative journalism!
Click here to make your tax-deductible gift online. It's a quick, simple and secure process.
From The College Fix team, thank you very much!
Like The College Fix on Facebook / Follow us on Twitter