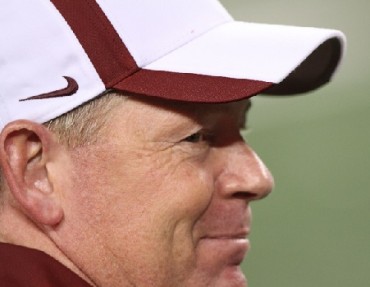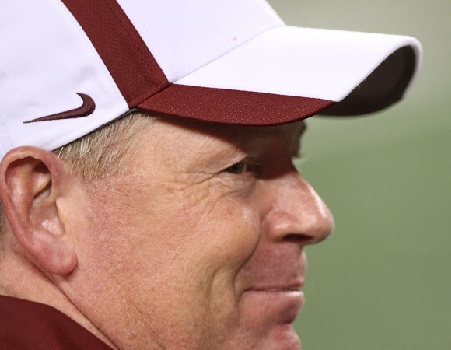 The entire state of Arkansas is feeling shockwaves from the football divorce between Bobby Petrino and the University of Arkansas. The university severed ties with its embattled offensive guru last week under some of the worst circumstances imaginable.
Bobby Petrino was hired as the head football coach for the University of Arkansas on December 11, 2007.
"Today's announcement is the culmination of a comprehensive search process which was intended to identify a leader for our football program that would serve our student-athletes and fans with class and dignity," Arkansas Athletic Director Jeff Long stated of Petrino as he introduced him to Razorback nation. This, however, was not the popular opinion of the general public.
Before Petrino put Arkansas on the path to prominence, he earned a reputation as one of the most brilliant offensive minds in college football during four seasons with the University of Louisville; however, his on-field success was often overshadowed by his off-field deceit. After his first season, Petrino secretly interviewed for the head coaching position for the University of Auburn and denied it afterwards. Worse, the position hadn't yet become vacant; it was occupied by Tommy Tuberville, a mentor of Petrino.
After four successful years at Louisville with a 41-9 record, Petrino bolted for the NFL. However, after struggling to a 3-10 record in thirteen games with the Atlanta Falcons, Petrino quit in the middle of the season without even meeting with his players in person to explain himself. The general public had good reason to be skeptical of Petrino's character in 2007.
Flash-forward to the spring of 2012: the Razorbacks were in the middle of practice, eyeing the upcoming season as National Championship contenders. They were coming off an 11-2 season that culminated with a victory in the Cotton Bowl. Petrino's offensive genius had managed to lead a Razorback football renaissance. In his four seasons with Arkansas, he compiled a 34-17 record in the most dominant conference in the NCAA, losing just five games in the past two seasons.
After the events of April 1, 2012, none of that mattered anymore. On that day, Petrino was involved in a motorcycle accident in which he suffered four broken ribs and a cracked neck vertebra. An investigation revealed that Petrino was not alone in this incident–he was with a 25-year old employee who had recently been hired by the football team. This employee turned out to be the mistress to Petrino, a married father of four.
Every detail was uglier than the one before it. Jessica Dorrell, the employee, was the fiancée of an Arkansas strength coach. Dorrell was hired for a new position that had 158 other applicants after just one day of the job being open. The revelation that Petrino gave Dorrell a $20,000 gift was the most damning detail of all. The investigation continued and led to incriminating phone and texting records. Finally, there was simply too much evidence of inappropriate behavior for the university to do nothing.
On Tuesday April 10, 2012, University of Arkansas Athletic Director, Jeff Long fired Petrino and stated in a press conference, "We have high standards and a national reputation. Our expectations from our employees can be no less than what we expect of our students. No individual can be bigger than the team, the Razorback football program, or the University of Arkansas."
The media has lauded Long's poise and character in his handling of the undesirable debacle.
"Long showed the nation that character and integrity are more important than winning at all costs," said Dennis Byrd, who heads the Arkansas News Bureau.
In Arkansas, Razorback football is followed religiously by the vast majority of the state. They have a proud tradition and rabid fan base that demand results. The head football coach at the University of Arkansas is one of the most significant and scrutinized people in the state. This was reflected by Petrino's $3 million salary, which made him the state's highest paid public sector employee.
The Petrino debacle has led to nearly unprecedented national attention for Arkansas.
"We haven't gotten this much national media attention since Bill Clinton ran for and became president," said Byrd.
The fan base has had decidedly mixed feelings after cutting loose the coach that made them a force to be reckoned with in the SEC.
"The Petrino era is over at Arkansas and the fan base is divided.  Some think Petrino should have been allowed to keep his job.  Others are shocked their coach had an affair with a young woman and hired her onto his football staff.  The only ones happy now are the Alabama and LSU fans," mused lifelong Razorback fan and Eureka College Professor of Political Science Wesley Phelan.
One would assume that Petrino will disappear from the limelight for a while and return to coaching college football in a couple years with a rehabilitated image. He will say that he has been through treatment and that he is a changed man. Perhaps he will find a smaller college that has recently struggled for success, and can forget his unscrupulous behavior.
Fix Contributor Blake Baxter is a student at Eureka College.
Click here to Like The College Fix on Facebook.
Like The College Fix on Facebook / Follow us on Twitter