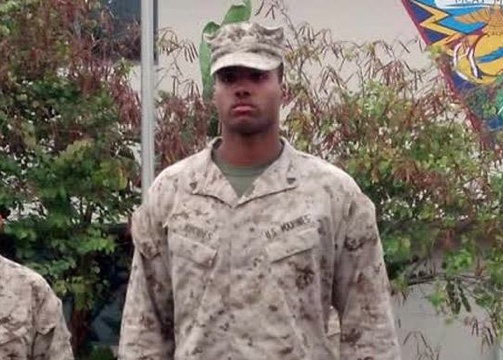 Middle Tennessee State freshman and former Marine Steven Rhodes is finally living his dream of playing Division I NCAA football, but it was shockingly almost put on hold due to an arcane rule in the NCAA's bylaws.
Rhodes, a native of Antioch, TN played football in high school, but was never nationally recruited. Upon graduating in 2006, he worked at a Nissan plant, while contemplating what he wanted to do with his life. He chose to serve his country by enlisting in the Marines.
In July, after serving for five years, Rhodes' active enlistment ended and he began transitioning to the next phase of his life. The 24-year old husband and father of two had decided to not only get an education at Middle Tennessee State, but also to attempt to resume his football career. He had played sparingly since high school – just twelve games in a loosely organized recreational league while in the service. Still, Middle Tennessee found having a 6-3, 240 pound Marine sergeant as a walk-on to be an attractive prospect. Head coach Rick Stockstill eagerly welcomed him to the team after viewing a highlight video that Rhodes had made of his limited play in the recreational league.
Rhodes worked out and practiced with the Blue Raiders for three weeks leading up to the season, but two weeks before kickoff, the NCAA told him that he had to sit out a season before he could become eligible. In addition, after he was red-shirted for a season, he would have to forfeit two years of eligibility due to his participation in the marine recreational league. Both Rhodes and the university were blindsided by the ruling. The university appealed it, but it was only partially overturned. Although Rhodes was granted his other two years of eligibility, he was still forced to sit out a season.
For reasons that few understood, Rhodes was going to have to put his dream of playing Division I football on hold. How could this possibly be? The rule that prevented him from playing is NCAA bylaw 14.2.3.2.1. Initially, in 1980, when it was instituted, the rule stated that student-athletes who do not enroll in college within a year of their high school graduation will be charged a year of eligibility for each academic year that they participate in organized competition. However, there was an exemption specifically designed for "participation in organized competition during times spent in the armed services, on official church missions or with recognized foreign aid services of the U.S. government." Since then though, the NCAA rulebook has gone through many revisions and somehow the exemption fell through the cracks. It looked like Rhodes would have to pay for the NCAA's careless mistake.
However, fortunately for Rhodes, his plight became a national story after The Murfreesboro (Tenn.) Daily News Journal reported the NCAA's ruling. Columnists, politicians, pundits, veterans and football fans alike rallied behind Rhodes and the university. The story spread across the country by way of social media, talk radio and news stations. Arizona senator and Navy veteran John McCain tweeted, "NCAA should allow Steven Rhodes to play – don't penalize him for serving his country." U.S. Representative Scott DesJarlais wrote an open letter to embattled NCAA president Mark Emmert, advocating Rhodes' cause.
"While I think we would both agree that this particular rule and clause therein was never intended to punish or deter our nation's military personnel from having the opportunity to participate in NCAA sanctioned athletic events, that is exactly the scenario that is currently unfolding," DesJarlais said of the ruling in his letter.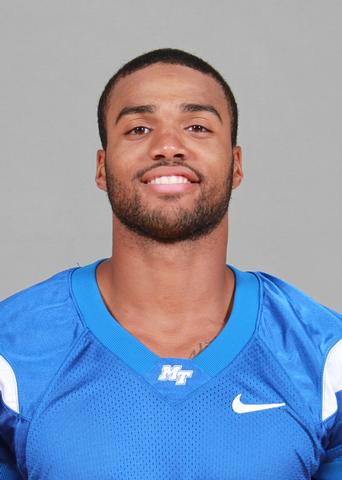 "I respectfully ask that you take another look into Mr. Rhodes' situation and make a determination that military "recreational leagues" are not considered organized competitions that should preclude Mr. Rhodes from having immediate eligibility. After all, Mr. Rhodes has given the sacrifice of service to his country, displaying not only leadership but all of the qualities that the NCAA wants its student-athletes to emulate and represent. Mr. Rhodes is seeking to be a "walk-on" athlete, paying for his own education and working to enhance his life both academically as well as athletically," DesJarlias said, echoing the feelings of pretty much the entire country.
The full appeal process was supposed to take weeks. It was likely that Rhodes would, at minimum, miss multiple games this season, even if he was ruled to be eligible. But, on August 20, a little over 24 hours after the second appeal process began, the NCAA reversed its ruling and cleared Rhodes to play immediately. As a part of the announcement, NCAA vice president of academic and membership affairs Kevin Lennon stated, "As a part of the ongoing review of NCAA rules, our members will examine the organized competition rules, especially as it impacts those returning from military service. We thank Steven for his service to our country and wish him the best as he begins college."
Even though the NCAA reversed the ruling, it was an embarrassing and very public debacle for an organization that is constantly under fire. Whether it is due to abuse of power, corruption or just plain incompetence, the NCAA can never seem to stay out of the headlines for long. This time, one of its oversights almost cost a veteran an opportunity that he clearly deserved. Fortunately, the rest of the country stood up for Steven Rhodes, in gratitude for his service.
Rhodes will suit up for his first game as an Middle Tennessee State Blue Raider tonight at 6:30pm in the team's season opener against Western Carolina. Tonight, he will finally have the chance to live his dream.
Blake Baxter is a 2013 graduate of Eureka College.
Click here to Like The College Fix on Facebook  /  Twitter: @CollegeFix
Image Source: Facebook.com (top), MTSU (right)