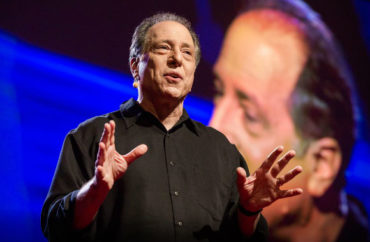 And he's mean to his female grad students
Michael Kimmel has created a small empire around the theme of making masculinity less "toxic."
The sociology professor convinced Stony Brook University in 2015 to create a master's program on "what it means to be a man."
His 2010 paper blames "the culture of hegemonic masculinity" for creating "a sense of aggrieved entitlement conducive to violence." His work "Masculinity as Homophobia" is used in an Ohio State course that disparages white heterosexual masculinity.
Kimmel's books include Angry White Men: American Masculinity at the End of an Era, which is used in a Yale University "Constructions of Whiteness" course. He spoke about his boy-to-man book Guyland at the University of Massachusetts-Amherst with the help of its (apparently shuttered) Men and Masculinities Center.
In case his scholarship doesn't make it obvious, Kimmel is "the world's most prominent male feminist," according to a blurb from The Guardian posted on his website bio page.
Recently he's been dogged by anonymous "rumors" that he's a chauvinist and a hypocrite. Now he has to contend with a former graduate student who is willing to be named.
'Benevolent sexist, second-wave feminist, trans-exclusionary frame of reference'
Virginia Commonwealth University's Bethany Coston, a nonbinary professor of gender, sexuality and women's studies, published an exhaustive Medium essay Thursday detailing Coston's "intimate account of my six or so years working for and in the presence of Michael Kimmel."
The professor must publicly call out Kimmel now because they are both headed for the American Sociological Association annual conference next week.
Kimmel was to receive a major award for his work to "encompass fully the role of women in society," but he has asked for the award to be deferred while the "rumors" are investigated.
Coston writes:
I sat in silence for all these years for many reasons. … I was originally dependent — or so I thought — on Michael's letter of recommendation for jobs and feared the potential retaliation that might come from exposing such a widely respected and very influential scholar. …

I am called in to this conversation by the brave anonymous sources who spoke truth to their experiences of sexual harassment, and compelled to publicly name myself because of Michael's anti-feminist response to those anonymous sources. Where once I was a seemingly powerless graduate student, I have now been physically and intellectually separated from Michael for over three years and our academic collaborations are buried deep beneath many, healthier endeavors with others.
MORE: Kimmel gets masculinities program at Stony Brook U.
Some of Coston's gripes are typical among grad students. Kimmel allegedly made his female students "print paper copies of articles and reports he wanted to read," undertake two-hour drives for his mail, and ghostwrite some papers for him, among other unpaid labor. Coston bore the brunt of this:
His power and prestige only grew as I continued in the program. The more HuffPo and BuzzFeed articles and videos in which he was featured, the more terrified I became of alienating him, disappointing him, or not upholding my end of the informal economy.
But Coston is more outraged by Kimmel's "benevolent sexist, second-wave feminist, trans-exclusionary frame of reference, which relies so heavily on stereotypical understandings of the gender binary that it also necessitates a homophobic understanding of sexuality."
He has a habit of discussing his son's sex life with students and defending porn, particularly "woman on woman," and humblebragged how woke he was by confessing that he "couldn't help" staring at an undergraduate's large breasts in a low-cut shirt.
"I think I speak on behalf of nearly all of his cisgender women graduate students (and non-binary folx, but again he didn't see or acknowledge us as such)," Coston says, by claiming that Kimmel "unequivocally" favored his heterosexual male students who identify as men.
The men got paid for their work and were even sent on "expensive trips to conferences in other countries" while the women and nonbinary students served as "glorified secretaries" at home.
He believes that sex is real and uses SNL's 'Pat' as a reference
Coston is particularly galled at Kimmel's stereotypical view of gay men and women. He allegedly told his grad student at one point that he understood why Coston stopped dating a man and started dating a woman ("more caring and nurturing").
His teaching emphasizes that gay men are promiscuous and lesbians practically "asexual," and Kimmel ignored Coston's pleas to recognize that lesbians have a broader definition of "sex" than others:
He didn't respond to my edits directly, and as you can see in the most recent version of the text, he has barely changed his binary and heterosexist understandings of LGBQ+ sexualities (and refuses to support the claims that remain with empirical data and research).
The veteran sociologist is also "both ignorant about and holds bigoted opinions of trans people," and not just because he thinks the term "cisgender" isn't useful, Coston says. He uses the term "FTM" to refer to women who identify as men ("which cis people shouldn't") and he "complained" about being asked to seek out his students' gender pronouns before class.
MORE: Kimmel's research in Ohio State course on white heterosexual masculinity
Kimmel is also guilty of using "outdated language" about what Coston calls "gender confirmation surgery" (he uses "gender reassignment," and many people still say "sex change"). Coston seems generally bothered that Kimmel sees sex as a real thing, not a social construct:
Even more troublingly, he writes that trans folx "are the quintessential social constructionists". He doesn't know how to spell genderqueer and he thinks that "gender-queer people seek to inhabit an intermediate zone, not unlike Pat on SNL or intersexuals."
Inside Higher Ed largely ignored Coston's complaints about Kimmel's alleged transphobia, which boil down to him using the language still in common use among political progressives.
The American Sociological Association told Inside Higher Ed that its council and professional ethics committee "have harassment as a primary agenda item for their respective meetings in Philadelphia," but did not refer to Kimmel specifically.
Read Coston's essay and Inside Higher Ed report.
MORE: Kimmel's research in Yale course on 'Constructions of Whiteness'
MORE: Men and Masculinities Center at UMass sputters to a grinding halt
IMAGE: TEDWomen 2015
Like The College Fix on Facebook / Follow us on Twitter