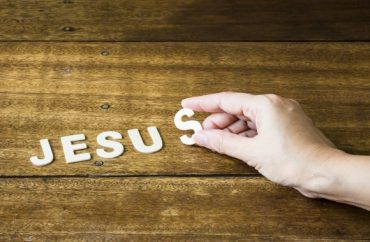 The chair of New Testament Studies at Massachusetts's College of the Holy Cross has argued that Jesus was a "drag king," had "queer desires," and was "gender fluid."
Professor Tat-siong Benny Liew also says the Last Supper was a "literary striptease," according to a report by Fox News.
Fox picked up the story after Holy Cross student Elinor Reilly wrote about Liew's claims in The Fenwick Review. 
Using the Book of John, Liew claims that "[Christ] ends up appearing as a drag-kingly bride in his passion. If one follows the trajectory of the Wisdom/Word or Sophia/Jesus (con)figuration, what we have in John's Jesus is not only a 'king of Israel' or 'king of the Ioudaioi [Jews],' but also a drag king."
Christ's crucifixion, he argues, actually was a "(homo)sexual bonding of the Father and the Son":
"What I am suggesting is that, when Jesus' body is being penetrated, his thoughts are on his Father. He is, in other words, imagining his passion experience as a  sexual relation with his own Father."
The controversial professor uses the example of Thomas, after the Resurrection, putting his finger in Jesus' side, which the New Testament scholar argued was an example of John asking his readers "to perform a kind of pan-eroticism."

And the Last Supper, when Jesus washed his disciples feet, was a "seductive," "literary striptease" and a "womanly/slavishly task" used as an example of John's transgender interpretation of Jesus, the professor claims.

The religious studies professor also argues John's multiple references of Jesus wanting water, giving water, and leaking water "speak to Jesus' gender indeterminacy and hence his cross-dressing and other queer desire."

Because of all this, Liew argues that while John makes it clear Jesus was a Jew, he leaves open "whether Jesus is a biological male."
Expanding on that last notion, Reilly cites Liew's own contribution to a religious volume he edited:
Suffice it to say that not only does this exchange of desires place the Father's identity in question but also that the Father-Son dyad in John is always already interrupted by and dependent on the participation of a third party. One may, as a result, turn around Jesus' well-known statement in John, "No one comes to the Father except through me" (14:6c): Jesus himself needs others to cum with the Father. Jesus' statement that "I in them [his followers] and you [the Father] in me" turns out to be quite a description. What we find in John is a Jesus who longs to be "had" by the Father…Things do not get less queer as one gets to the other parts of John's Gospel. It is noticeable that throughout the Gospel Jesus and his Father form a "mutual glorification society" (5:41; 8:50, 54; 12:28– 29; 13:32; 17:1, 4– 5). This constant elevation or stroking is nothing less than an exciting of the penis, or better yet, phallus. Its consistency is then explainable, since "we all know that after … an orgasmic dissemination or circulation, the phallus, like most penises, becomes limp."
Though Liew wrote the article in 2009, Reilly says "his teachings seem to continue along this line of thought."
According to the Fox story, the professor has said that his "selective reading of John aims to … give recognition and life to those who desire to live otherwise gendered or transgendered (sic) lives."
The College of the Holy Cross certainly is no stranger to controversy. It debated for some time whether to do away with its "Crusader" nickname and mascot; although the school's Board of Trustees ultimately decided to keep it early last month, the student newspaper did not.
Read the full Fox News and Fenwick Review articles.
MORE: Holy Cross student paper does away with 'Crusader' moniker
MORE: Bible class students get trigger warning before studying crucifixion
IMAGE: Shutterstock.com
Like The College Fix on Facebook / Follow us on Twitter