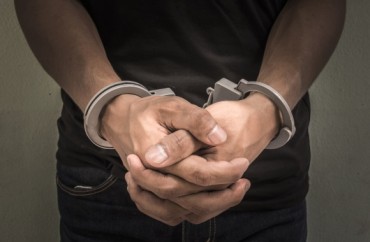 Faculty may be charged with 'disturbing the peace' in pro-immigrant demonstration
Nearly three dozen professors from Harvard and other universities were arrested yesterday during a street protest in support of the Deferred Action for Childhood Arrivals immigration program.
In all, thirty-one professors were arrested "for blocking traffic…in protest of President Donald Trump's decision to rescind an Obama-era program that gives legal protections to undocumented young people," The Harvard Crimson reports.
The instructors were engaging in "a planned act of civil disobedience," according to The Crimson, "forming a human chain and blocking traffic on [Massachusetts Avenue]." Local police forewarned the protesting faculty that they would be arrested if they did not move.
The professors face charges of "disturbing the peace," and their bail was set at $40, according to a local police spokesman.
From the report:
"It just came to a point of crisis, both for the nation and for us," [African and African American Studies professor Walter] Johnson said. "It seemed like it was time for us to jump off, and to try to both stand firmly with our students, to stand for justice and decency in the face of an unjust law, and to try and kick off a conversation about resistance between campuses in Boston and among faculty…"

Kirsten A. Weld, a History professor who started a conversation about the DACA repeal over a faculty email list, was also among those arrested. That conversation led to a meeting Wednesday morning, where roughly 75 to 100 faculty members from Harvard, Tufts, MIT, Babson, and other area universities brainstormed what they could do to support undocumented students, according to Weld.

Weld said the professors wanted to do more than sign a petition, and felt it was "high time" to act. In a speech to the crowd, she said three of the students in her 14-person course were undocumented.

"It's not business as usual because the Trump administration is targeting our students," Weld said in an interview before her arrest.
One professor was naturalized just a short while before he was arrested at the protest. "It feels so sad to see that on the day, at the time that I'm getting these rights, that my students are being deported and taken away from this country, that is their country," he told The Crimson.
MORE: As Trump mulls DACA change, undocumented students enjoy lower tuition rates, other perks
MORE: University of California caps out-of-state student enrollment — excludes illegal immigrants from policy
IMAGE: Shutterstock
Like The College Fix on Facebook / Follow us on Twitter