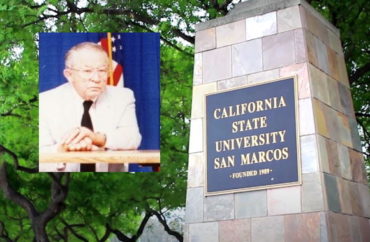 The man credited with leading the charge to found California State University San Marcos is now on the chopping block at the North San Diego County campus.
The public university is hosting a series of listening sessions this month as it works to determine whether the memory of William "Bill" Craven should be erased from the school due to disputed allegations that he supported "nativism and white supremacy."
Craven, who died in 1999, served as a U.S. Marine and a California state assemblyman.
The "crown jewel" of his legislative accomplishments was the successful establishment of Cal State San Marcos, according to obituaries at the time that described him as a politically astute moderate Republican who understood how to work in the trenches to get things done politically.
Craven began lobbying for the campus in 1973, even before he was elected to the assembly.
"The university was finally christened in 1990, and the grand opening capped one of the longest and most ardent drives of Craven's years in Sacramento," his obituary in the San Diego Union-Tribune reported at the time.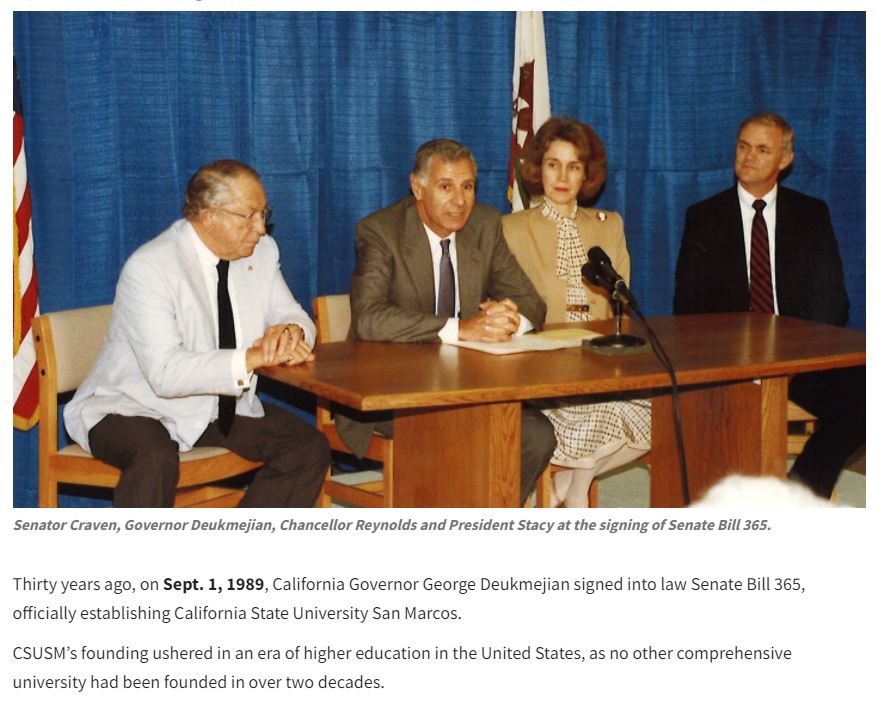 "In gratitude, one of the main buildings of the growing San Marcos campus was named Craven Hall. A bust of the longtime legislator rests in front and a nearby thoroughfare was named in his honor."
Fast-forward to today, and Cal State San Marcos has launched a "Craven Taskforce" to examine whether Craven deserves to be honored at all on campus. A final report is expected by the end of the spring semester, the university's website states.
Craven's daughter, Tricia Craven Worley, told The College Fix her father's name should remain a part of the campus. In a telephone interview, she cited his long track record of public service and his lengthy dedication to seeing Cal State San Marcos become a reality.
"My father fought to establish this university to serve the underserved of North County," she said.
The effort to review the matter follows an April 2021 CSUSM Academic Senate vote of 56-2-2 to cut ties with Craven, advocating for the removal of his bust on campus, as well as his name, which appears on a campus building, road, and traffic circle.
"To continue its commitment to racial inclusion, and to advance its vital work to promote diversity, racial and social justice in meaningful ways, CSUSM should make the effort now to eliminate from the campus symbols that honor individuals who advocated nativism and white supremacy, in particular, the former California State Senator William A. Craven," said the resolution, according to the Cougar Chronicle.
The Craven Taskforce is headed by co-chairs Patricia Prado-Olmos, a community engagement officer, and Elizabeth Matthews, interim dean for the College of Humanities, both of whom did not respond to The College Fix's request for comment.
Margaret Chantung, the university's spokesperson, said the taskforce is "charged with leading a deliberative process to examine the historical record and context of William Craven's statements and actions as they relate to CSUSM, our region and our state."
"An important part of this process is facilitating dialogue and the input of diverse perspectives from internal and external campus constituents on the Senator's legacy and connection to CSUSM," she said via email to The College Fix.
Chantung said the taskforce's report would analyze the effects of "retaining, replacing or contextualizing the name and representation of Senator Craven at CSUSM," while emphasizing that there "aren't presupposed outcomes of the taskforce's work."
Craven is under fire for his alleged "anti-immigrant and white supremacist" remarks about undocumented immigrants and those of Latino ancestry, the Coast News reported.
But some argue his comments are taken out of context and blown out of proportion.
"All the charges against Craven which had justified the establishment of the Craven Taskforce are bogus, taking words out of context to satisfy an ideological agenda of political correctness," said Wenyuan Wu, executive director of the California for Equal Rights Foundation, in an email to The College Fix.
"How is spending time and resources on scrutinizing a late senator whose policy work stretched back five decades helping? Why fix a non-issue?"
The first of Craven's controversial comments is from 1991, when he wrote a letter to school districts, cities and county officials asking for headcounts of suspected undocumented immigrants who used public services in the school district and city.
In his letter, however, he wrote that he hoped to "use data gathered from the survey to lobby Washington officials in September for more federal funds to pay for the cost of providing services to undocumented immigrants," stated an article published in the Los Angeles Times.
According to an article published in the San Diego Union-Tribune, in a Senate hearing in 1993, Craven referred to undocumented immigrants as "perhaps on the low scale of humanity, for one reason or another," before later clarifying that he was referring to the "lower rung of humanity, economically speaking."
In direct opposition to the accusations against Craven, he actually "stood by his commitment to champion policies that would promote the welfare of the underprivileged, an argument corroborated by subsequent tape recordings," wrote Wu in a column for Minding the Campus.
In 1994, Craven had suggested that employers provide Latino citizens with ID cards. Wu's column points out that these comments were in support of California Proposition 187, which passed with nearly 59 percent of the vote before it was eventually voided by the courts.
Despite the passing of Prop. 187, Craven was labeled an "anti-immigrant nationalist," Wu wrote, noting that the context of his comments were never made public.
Wu stressed the salience of considering the context behind controversies as "taking one's words out of context risks engineering ill-informed discord and needless divisions."
She said she doesn't believe CSUSM has a strong case against Craven, illustrating his long history of support for public service, such as the Equal Rights Amendment to Proposition 13, anti-pollution laws, and public funding for senior living and public parks, while also highlighting his respected "fierce bipartisanship."
The College Fix also reached out to the San Marcos Historical Society for comment.
Representative Tanis Brown wrote via email that she met Senator Craven numerous times and "knew how important it was to him to have a four-year university in North San Diego County."
She said she wasn't familiar with his controversial comments, but stated she would attend one of the Craven Taskforce listening sessions set for this month to find out more information.
MORE: Check out The College Fix's Campus Cancel Culture Database
IMAGES: Cal State San Marcos
Like The College Fix on Facebook / Follow us on Twitter