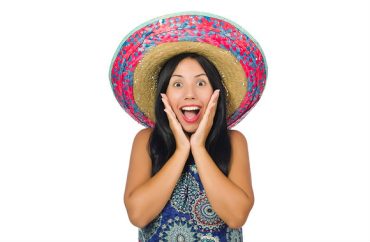 It's getting orangey out there (no, not a reference to President Trump) what with the leaves falling and the abundance of pumpkins, and at your local university this means the enforcers of political correctness are out there to guard against "improper" Halloween costumes.
At Washington State University these enforcers come in the form of Social Justice Peer Educators, who are present to remind students "how culturally appropriated costumes can be disrespectful and harmful to marginalized groups." Such appropriation is "usually done by the dominant members group […] and are taking elements from an oppressed or marginalized group," says WSU Social Justice Peer Educator Jayda Moore.
According to The Daily Evergreen, at a meeting in which Moore and other SJPEs were in attendance, an audience member whined about once seeing a student with cornrows, and another garbed in a Fidel Castro outfit.
In addition, the article points out WSU had been embroiled in a cultural appropriation scandal four years ago when — gasp! — organizations like M.E.Ch.A. complained about the athletic department handing out Cougador masks.
Elsewhere up north, Ontario's Viamonde School District has sent a checklist home to parents warning them about improper Halloween garb:
Does your child's costume "represent a stereotype," such as "terrorist" or "urban ghetto dweller?" Does it involve changing the colour of their skin? Does it allude to a culture that is not the child's own, such as a kimono, a turban or a feather headdress? Does it "mock" transgender people? Is it based on "tragic or violent historical moments," such as "slave" or "cowboy and Indian" role play?

If the response is yes, a French-language school board district has asked parents and children to reconsider their choice of costume – part of a growing movement to fend off any hint of offence in Halloween attire.

The guidelines e-mailed to parents late last week by [the] publicly funded French school board in central-southwestern Ontario, comes amid debate of whether costume-policing is violating free expression. Supporters, however, say that costumes could cross the line to sexism, racism and appropriating culture, often from marginalized or economically disadvantaged communities, in a disrespectful and offensive way.

In its guidelines, titled Is My Costume Appropriate?, the […] district stated that costumes worn to school should be respectful of its diverse student population. "Sometimes, even with good intent, or even without fully realizing it, people wear costumes that can make others feel upset, insulted or humiliated," the board stated. "Certain themes are touchy spots for members of our community and we want to show them kindness."
Some of the district's examples of "ok" costumes include "animals, fictional and imaginary characters, and creative costumes, such as a surfing shark or a purple-coloured Martian."
Of course, in today's hyper-PC climate even those could cause end up creating some angst. Surfing shark? Insensitive to people like Bethany Hamilton. Purple Martian? Callous towards those with purpura and hypoxemia.
Etcetera.
In the meantime, be on the lookout for this costume:
Think this is offensive? https://t.co/6DT0dJnDK7

— New York Post (@nypost) October 15, 2017
MORE: University prez: 'Slippery slopes' aren't a thing, so we can punish Halloween costumes
MORE: Students forbidden from mocking Halloween PC culture, official cites 'emotional harm' to campus
IMAGE: Elnur/Shutterstock
Like The College Fix on Facebook / Follow us on Twitter