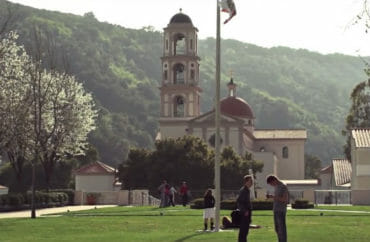 An emphasis on 'personal responsibility'
When Kiplinger's Personal Finance released its 300 Best College Values list last month, it wasn't Georgetown University or Notre Dame that topped the list among Catholic institutions of higher education.
It was a tiny liberal arts school, nestled in the hills of Ventura County in southern California, that prizes its Catholic identity too much to accept government money.
Thomas Aquinas College, ranked 14th on the entire list and seventh among liberal arts colleges, beat out more recognizable Catholic institutions: College of the Holy Cross (25th), Boston College (43rd) and Notre Dame (46th).
It managed this feat while strictly limiting the amount of debt it allows students to have, and requiring them to work on campus to pay part of their tuition.
"A fundamental part of our financial aid package is personal responsibility," Gregory Becher, director of financial aid and an alum, told The College Fix in a phone interview. "The student should take control for the cost of his own education, as he is the primary benefactor of it."
Government funding threatens the Catholic mission
Kiplinger evaluates schools mostly on academic quality (55 percent of the ranking) and the rest on affordability (45 percent).
TAC's high ranking may be related to its reputation among a handful of Catholic schools as uniquely faithful to the teachings of the Roman Catholic Church.
It is consistently included on the Cardinal Newman Society's list of such colleges, along with Franciscan University of Steubenville, Christendom College, Belmont Abbey College, Benedictine College, Ave Maria University and John Paul the Great Catholic University.
This concern for fidelity drives its policies on student debt and funding sources.
TAC caps the amount of debt that its students can have over a four-year period at $18,000. It works with each student and their parents to discern a reasonable amount for the student to contribute in loans, based on their financial situation.
MORE: TAC makes the A-list for 'key areas of knowledge' required
Setting itself apart even more from mainstream colleges and universities, TAC does not accept "campus-based" government funding.
Spokesperson Ann Forsyth told The Fix that while the college allows its roughly 400 students to accept subsidized and unsubsidized federal loans, officials are constantly reassessing that policy out of concern that doing so will jeopardize the college's mission.
The institution, which is led by a lay administration, has relaxed its concerns a bit since the Trump administration came into office. Forsyth said the government's attitude toward institutions like TAC has been much more positive, coinciding with a greater respect for religious liberty.
Loan limits are set and tiered by year: $3,250 for freshmen, $4,250 for sophomores and $5,250 for upperclassmen.
The entirety of each student's on-campus salary – $4,900 – goes immediately toward tuition. Becher, the financial aid director, said each student is assigned a job upon arrival to ensure that no one is applying for jobs and stressing over whether or not they'll get it.
Students are also expected to work during the summer to earn a minimum of $2,000 to be applied to their tuition. If finding a job looks unlikely, TAC may invite them to work at the college over the summer.
If they can't reach the $2,000 threshold for some reason, the college works with such students to make up the difference somehow: Becher said they might be given a grant or allowed to borrow slightly more.
This is no 'country club'
The Cardinal Newman Society is "seeing a renewal of authentic, faithful Catholic education because it's special and rare," Patrick Reilly, president of the Virginia-based advocacy group, told The Fix in an email.
The institutions on the society's list depend upon tuition-paying students, but "their fidelity attracts students," Reilly said. They "forego the country club campus" to focus on essential education, and their faculty take a pay cut because they "love Catholic education."
Colleges that are "Catholic lite," in contrast, have a hard time distinguishing themselves from large state universities, Reilly said. They are becoming less attractive because they "struggle to stay distinctive at a much higher cost than the public options."
MORE: Catholic college tells student he can't disagree with gay marriage
He didn't mince words about these so-called lite schools:
A Catholic university that secularizes for the benefit of money and prestige forsakes not only its faith but its mission as a university. What places like Franciscan University and Thomas Aquinas College have over many of their counterparts are the joy and confidence that come with integrity, commitment to truth, and confidence in God. Meanwhile Notre Dame is giving that up for a few silver coins.

Traditional Catholic education is fighting against a culture sliding into moral decay, according to Benjamin Wiker, a professor of political science at Franciscan University of Steubenville and former professor at TAC.
With the recent decline in the number of people going to and graduating from college, including Catholic institutions, America has to deal with "an advance of secular barbarism," he told The Fix in an interview.
State colleges and universities are creating a "sub-pagan atmosphere where you have a destruction of any understanding of Catholic morality, or any higher notion of a goal of life than merely if you're out of power, to get more, or if you're in power, to keep it," Wiker said.
"Catholic education, if done right, has the antidote to that," he continued. "But it's a difficult one to administer in such a highly secularized culture and society."
MORE: 12 Catholic colleges with grad speakers who scorn Catholic teaching
IMAGE: ThomasAquinasCollege/YouTube
Like The College Fix on Facebook / Follow us on Twitter