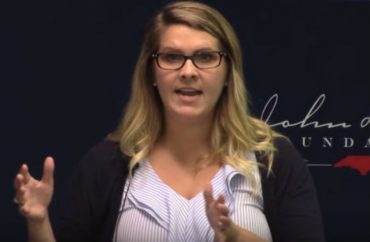 UPDATED
Office for Civil Rights investigator becomes a critic 
Earlier this summer, the Title IX coordinator at Campbell University gave a little-noticed presentation about the implications of extending Title IX protections to transgender students.
In remarks that appear to be unprecedented in her profession today, Kellie Nothstine said the Department of Education's Office for Civil Rights may have circumvented the legal process agencies must follow when they issue regulations with the force of law.
She also criticized the 4th U.S. Circuit Court of Appeals' approval of the department's behavior in G.G. v. Gloucester, a public school gender-identity case. (The Supreme Court recently stayed that ruling.)
Nothstine was not just speaking as a student conduct professional. She graduated from Loyola University Chicago Law School and worked as an investigator in the Office for Civil Rights before joining the North Carolina private school last fall.
MORE: Supreme Court halts transgender bathroom ruling
Gender identity 'was simply not contemplated'
Because Nothstine was on vacation, she referred The College Fix to a tenured law professor at Campbell, Greg Wallace, to give more background on the issues, specifically the 4th Circuit's ruling in Gloucester.
Legal scholars like Wallace have shown more willingness to question the government's use of "guidance" documents to impose Title IX policy changes on colleges without a formal rulemaking.
MORE: Law faculty revolt over new sexual-assault investigation procedures
A biologically female student who identifies as male had sought to use the men's restrooms at a high school in Gloucester County, Virginia. The school board made many accommodations but stopped short of granting "G.G." access to male-only restrooms, prompting a Title IX lawsuit.
The appeals court's ruling deferred to the Title IX interpretation in a guidance letter issued by Nothstine's former employer, the Office for Civil Rights, which said students are entitled to use bathrooms "consistent with their gender identity."
Prof. Wallace told The Fix in a phone interview that the ruling in Gloucester presents at least two problems.
It distorts the meaning of the Department of Education's regulation allowing for sex-segregated bathrooms, which "was promulgated to protect bodily privacy," Wallace said, emphasizing the last two words.
"Its authors had in mind segregated bathrooms that protected members of each sex from exposure to the unique body parts of the other sex. 'Gender identity' was simply not contemplated" when that particular regulation was promulgated in 1975, Wallace said.
MORE: Supreme Court opts not to restrain Department of Education
The law professor said the department's Title IX interpretation in Gloucester, issued as a mere guidance letter, did not follow the procedure required by the Administrative Procedure Act.
That law governs the promulgation of agency regulations, and requires all regulations having the "force and effect of law" to go through a notice-and-comment period.
"Extending Title IX protections to transgender persons is something that should go through notice-and-comment rulemaking," Wallace said. "It's a big change in the law."
Consensus or orthodoxy?
Nothstine's view as an administrator appears to be outside the tight consensus of opinions among her fellow Title IX administrators.
The Association of Title IX Administrators (ATIXA) was a signatory to a May 25 open letter authored by the LGBT activist group Human Rights Campaign, which states: "Federal non-discrimination law… is clear that denying a transgender student access to a sex-segregated space that is consistent with their gender identity is illegal."
"That's what they said hundreds of times in our first round of interviews," Laker said. "'It just happened.'" https://t.co/Py7HFsFmp4

— ATIXA (@ATIXAorg) August 5, 2016
ATIXA Executive Director Brett Sokolow told The Fix in an email that he was unaware of any ATIXA member who disagreed with the extension of Title IX protections to transgender students.
Though the law prohibiting discrimination "on the basis of sex" can be used to withhold federal funding from noncompliant schools, Sokolow said the association believes the Department of Education's use of guidance letters to add transgender students to the scope of Title IX is legally sound.
MORE: Judge says Title IX has nothing to do with sexual behavior
EDITOR'S NOTE: This article initially suggested that Kellie Nothstine had stopped talking about her views on Title IX's newer interpretations after her speech to the Locke Foundation. Nothstine did not give a reason for declining to talk to The Fix when we reached out to her, instead referring us to her law professor colleague. We understood that to be her way of communicating that she did not feel safe continuing to talk about her views in a field where they are a minority, and in a position without academic tenure. Nothstine reached out after the article ran to correct our misperception. We have removed portions, including in the headline, that suggest Nothstine has stopped talking about her views on Title IX or felt pressured to remain silent following attention to her Locke Foundation speech.
Like The College Fix on Facebook / Follow us on Twitter
IMAGE: John Locke Foundation/YouTube, Campbell University