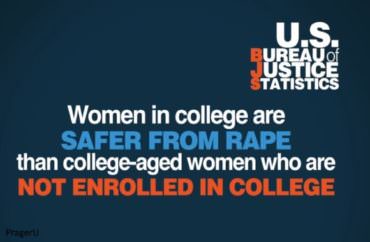 PragerU spokesman: 'Given the current climate on so many campuses, we're not shocked that a calm, rational video, based entirely on logic and statistics caused a number of RAs to break down into tears'
Fordham University has launched an investigation into its Dean of Students and Deputy Title IX Coordinator Christopher Rodgers after several RAs reportedly left a sexual assault training in tears because he screened a Prager University educational video that uses facts to dispute the stat that one-in-five women will be sexually assaulted or raped during their college years.
"Given the seriousness of the issues involved, the University has begun an investigation into the training session and Dean Rodgers' comments therein," Fordham said in a recent statement.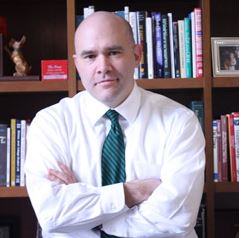 This incident came about in mid-August when Rodgers (pictured) showed two videos displaying the political agendas of the left and the right during a Campus Assault and Relationship Education training session for Resident Assistants. Called RAs for short, they are peer leaders who supervise students living in dorms.
Rodgers started the training with a documentary called "The Hunting Ground," which, according to a statement from Rowan Hornbeck, an RA at Fordham, "was his example of the agenda of the political left." Hornbeck claims that during this time "students began leaving the room upset" because of the way he framed the documentary as biased toward the left.
Rodgers then showed the five-minute PragerU video disputing the claim that 1-in-5 women are sexually assaulted or raped in college.
The video, narrated by a female scholar from the American Enterprise Institute, explains that the study that stat is based on was generated by the anonymous online responses of 5,000 women at only two universities, adding "no one's claims were verified and terms were not clearly defined."
"… Based on their responses, the authors, not the participants, determined that 1,000 had been victims of some type of 'non-consensual or unwanted sexual contact.' And voila! From one vaguely worded, unscientific survey we suddenly arrive at 'a rape culture on college campuses.' Tellingly, the study authors have since explicitly stated that it is 'inappropriate' to use their survey to make that claim," the PragerU video states.
"Much more comprehensive data from the U.S. Bureau of Justice Statistics estimates that about 1 in 52.6 college women will be victims of rape or sexual assault over the course of four years. That's far too many, but it's a long way from 1 in 5," it adds.
This short video caused even more unrest.
"During this video, many more RAs left the room — many of them women. Some were in tears," Hornbeck stated on Facebook.
Her statement added that another young woman reportedly said that videos like the one from PragerU "could be very upsetting for people who are victims of sexual assault because it blatantly said that campus assault 'isn't as big of a problem as it's made out to be.'"
Hornbeck writes that she sat through a little more of the presentation and then left the room and went to the bathroom, where she found at least 10 other female RAs and said that many of them were crying.
Rodgers did not respond to requests from The College Fix seeking comment.
In an interview with The Fordham Ram, Sabrina Spatz, another RA, said that the episode shows that the RA training is "inadequate."
"I had several issues with the presentation but what was really frustrating was that the way he presented this issue distracted from us receiving training that we are not only required to have, but is also essential to offer the resources and support our residents need," Spatz said.
PragerU Communications Director Jared Sichel told The College Fix via email that "given the current climate on so many campuses, we're not shocked that a calm, rational video, based entirely on logic and statistics caused a number of RAs to break down into tears, as many news reports described."
"But what's more disturbing is that a dean is being investigated because he showed a video that isn't lockstep with the narrative of Fordham's administrators. And while this dean is criticized for 'politicizing' RA training, it's worth noting that he actually balanced the training by showing the PragerU video after screening a trailer of 'The Hunting Ground,' which approaches this issue from the opposite direction. Only on college campuses would a presentation of both left and right be called politicization," he said.
According to a Facebook post by Hornbeck, Rodgers has repeatedly apologized for making people upset but has failed to denounce his position on politics having a place on campus assault.
To Hornbeck, this isn't enough. She wrote that she thinks Rodgers isn't fit to hold a position at Fordham, stating that "undermining the experiences of victims of sexual assault in the name of being 'moderate' or 'fair' is not justice and does not align with the Jesuit values of this university. And no one who undermines victims' experiences and disregards the emotional wellbeing of students should hold any administrative position at this Jesuit institution."
Fordham University did not respond to requests for comment.
MORE: YouTube blacklists PragerU educational videos
MORE: PragerU founder beats professor-led boycott of his symphony, sells out performance
Like The College Fix on Facebook / Follow us on Twitter