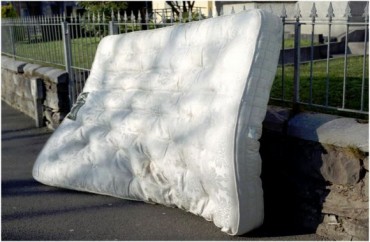 Lawsuits that allege colleges treat accused students unfairly in their investigations of rape allegations have historically faced a tough time in court.
Male students' claims that they were treated shabbily in investigations because of their sex – a classic Title IX violation – have had a particularly tough time, so perhaps it wasn't a surprise that one high-profile accused student just lost his case.
But in ruling against Columbia graduate Paul Nungesser in his suit against the school – for doing nothing as his celebutante accuser Emma Sulkowicz continually harassed him through her mattress project, for which she received academic credit – Judge Gregory Woods may have also hurt the chances for rape accusers who claim Title IX violations.
'Sex' is the being, not the act
The legal rationale by Woods, who serves on the U.S. District Court in New York, is quite literal.
He says that Nungesser is wrongly assuming the "sex-based discrimination" prohibited by Title IX means  "based on the act of sex" (rather than "gender"), which implies that harassment is "automatically considered to be gender-based" when it uses "sexual content or connotations."
Judge Woods sets an incredibly high bar for Nungesser to be able to consider himself a gender-based victim:
Nungesser alleges that Sulkowicz's gender-based misconduct complaint, as well as the Mattress Project and her public statements, were motivated by her anger at his rejection of her. To the extent that Sulkowicz's activism was aimed at Nungesser it was because of his conduct toward her (whether because of his rejection of her, as he alleges, or because of the rape, as she claims) not because of his status as a male.
The judge suggests Nungesser might have a case if Sulkowicz had harassed him sexually – grabbing his privates or mocking his manhood, for example, which is a more common Title IX claim.
Slippery slope
Even if Sulkowicz had literally named Nungesser as a rapist rather than describing him so well everyone knew whom she was accusing, it still wasn't gender-based harassment:
In this case, Sulkowicz's use of the word was based on a particular event involving a particular male; it was not used as a generic term to disparage men, or Nungesser as a man.
Woods sees a slippery slope if Nungesser is judged a Title IX victim:
To hold otherwise would, in essence, create a new right of action under which all students accused of sexual assault could bring a Title IX claim against their educational institutions—so long as they could plausibly plead that the accusations were known to the institution and that the institution failed to silence their accusers—simply because the misconduct they were accused of has a sexual element.
It's not a stretch to say Nungesser would had to have been on the verge of suicide for Woods to conclude that he was "deprived of access to educational opportunities," another Title IX violation:
Nungesser's conclusory assertions that his academic performance suffered and that he was prevented from attending recruiting events, without more, do not suffice. There is no suggestion that his grades dropped, that he was delayed or prevented from graduating (to the contrary, he graduated on time in May 2015), or that he missed a single class as a result of these events.
In response to threats issued against him on Facebook, "Nungesser does not allege that he ever missed class, altered his study habits, or was otherwise unable to access educational opportunities as a result of these threats," Woods continued.
The accused student is also out of luck with regard to Columbia's responsibility for keeping Sulkowicz from harassing him, the judge said, because it never promises students anything specific about protecting them from "gender-based discrimination."
Nothing 'extreme and outrageous' about Sulkowicz's behavior
To approve of Sulkowicz violating Columbia's confidentiality policy by publicly calling Nungesser a rapist, Woods cites the infamous 2011 "Dear Colleague" letter issued by the federal Office for Civil Rights:
Columbia may encourage students to maintain the privacy of all parties involved in a complaint of gender-based misconduct, but, consistent with federal guidance, it does not mandate it. Since the policy does not mandate Sulkowicz's silence, failure to silence her does not breach the policy.
Woods also shows remarkable tolerance for Sulkowicz's monthslong antics against a student who had been cleared of wrongdoing by Columbia, when he evaluates Nungesser's claim of intentional infliction of emotional distress:
He clearly disagrees with how Columbia and its agents, including [President Lee] Bollinger and [Sulkowicz professor Jon] Kessler, chose to handle Sulkowicz's—and other students'—activism. But the Court cannot conclude that the complaint plausibly pleads that Columbia's response was anything approaching "extreme and outrageous conduct." Indeed, "even a false charge of sexual harassment does not rise to the level of outrage required" under New York law… Additionally, Nungesser failed to plead any facts supporting an inference that Defendants [which doesn't include Sulkowicz] intended to cause him distress.
Woods gave Nungesser a chance to replead some of his claims with more specific allegations that would satisfy the legal requirements the judge laid out.
But it's hard to read this ruling as anything other than a warning for any other male student who is treated horribly by his accuser and/or university: The courts won't entertain your pleas, at least to the extent they relate to your maleness. (Nungesser couldn't cite due-process violations here because Columbia vindicated him, though it basically refused to enforce the vindication.)
A silver lining?
The only bright side is Woods' refusal to read more into Title IX than is literally written there, which runs counter to the federal government's yearslong enforcement of Title IX.
As defense attorney Scott Greenfield wrote on his blog:
Before you start screaming [about the unfairness of the ruling], consider the ramifications of Judge Woods' holding. Even though it's used against Nungesser today, the same rationale applies to rape accusers who claim a right under Title IX to have their school play rape adjudicator. As has been argued all along, Title IX is not a rape law. Much as Nungesser can't use it to vindicate his claim against Columbia, neither can an accuser. There is no basis in law for colleges and universities to adjudicate claims of rape and sexual abuse on campus.
As Woods said, schools are only held liable for harassment that is "so severe, pervasive, and objectively offensive" that deprives victims of educational opportunities, Greenfield notes:
This is the law, and it precludes the vast majority of alleged Title IX violations, which means that colleges have no business under the law providing recourse to all those women claiming gender discrimination because they regretted their sexual conduct.  That colleges choose to do so is their choice, not a legal mandate. That colleges choose to do so lacks any legal authority under Title IX.  Colleges have no lawful authority to adjudicate claims of gender discrimination based upon acts of sex gone wrong.
Greenfield suggests this ruling provides "the basis for recourse to the courts after colleges act ultra vires [beyond their authority] by adjudicating sexual conduct at all" – a future legal challenge.
It's not much of a silver lining, but a twinkle may be all that male students falsely accused of rape can hope for at this point.
Like The College Fix on Facebook / Follow us on Twitter
IMAGE: Lucas Shaw/Flickr