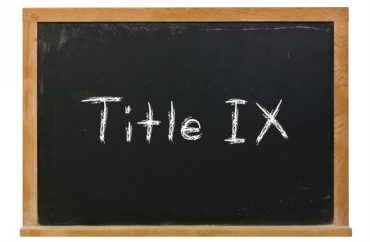 School refuses to explain what the training entails
Before Harvard College students are able to register for classes this fall, they'll have to complete an online Title IX Training module. This module has been offered as a voluntary option in the past but is now mandatory for all undergraduate students at the university.
In an email to the student body, Harvard College Title IX coordinators Emily Miller and Brian Libby, announced that the training module was mandatory and would focus on the university's resources and policies when it came to sexual harassment and assault.
"Many of you have spoken up and asked that we do more to ensure that every single student completes this training. We heard you," the coordinators wrote, according to The Harvard Crimson.
Neither Miller or Libby responded to multiple requests for clarification from The College Fix about what exactly was included in the Title IX online training or whether these online modules have shown success in curbing harassment or increasing reporting.
Prior to its implementation as a mandatory requirement, a Harvard-issued report described the school's training module as "provid[ing] community members with condensed, plain language explanations of our Policy, processes, and resources in an interactive, user-friendly format (including videos and animated vignettes)."
This announcement of this new policy comes on the heels of a May proclamation by university administration that a similar Title IX module would be required for all faculty and staff. Graduate Students will also have to complete a Title IX training module in order to register for classes.
When the original module for Harvard students was rolled out in September 2016, Title IX coordinator Emily Miller told The Crimson: "This is not meant to be an all-inclusive training on sexual assault prevention and response."
Miller added that the online format of the training is ideal because "it's really a lot of information."
The newly mandatory student model will launch in August, giving students a short window of time in which to complete it before facing consequences from the university.
The online training can be opted out of, according to Miller and Libby. Instead of completing the online module students will complete the training in person, either individually or with a group. It is not clear at this time how a student would go about opting out of the online module. A 2016-2017 report from the Title IX office stated that their staff provided 202 training sessions for students, staff, and faculty during the year.
As The College Fix previously reported, sexual harassment and assaults claims at Harvard have skyrocketed in the past few years. A Fix review of Harvard's own 2016-17 report revealed a 65 percent increase in the number of formal complaints filed with the Office for Dispute Resolutions.
MORE: Harvard mandates harassment training after Title IX complaints skyrocket
MORE: Professor says his school 'wastes time and money on sexual assault training'
IMAGE: CLS Digital Arts / Shutterstock.com
Like The College Fix on Facebook / Follow us on Twitter