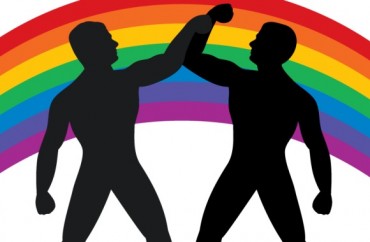 A letter sent by the non-profit group "Athlete Ally" urges Big 12 Conference Commissioner Bob Bowlsby not to accept Brigham Young University into the fold due to the school's honor code.
The letter was signed "by over two dozen other LGBT advocacy groups," The Daily Wire reports.
"Currently, the Big 12 as a conference is overwhelmingly LGBT-inclusive," the letter reads. "BYU, conversely, actively and openly discriminates against its LGBT students and staff. It provides no protections for LGBT students. In fact, through its policies, BYU is very clear about its intent to discriminate against openly LGBT students, with sanctions that can include suspension or dismissal for being openly LGBT or in a same-sex relationship."
As the DW article points out, however, "not one incident or report of so-called discrimination [at BYU] was cited" in the letter.
The letter also claims that coaches, players and fans will be subject to acts of "unabashed discrimination" if BYU were to host events since the school is "exempt from Utah's LGBT nondiscrimination law."

"LGBT coaches, players and fans who attend and/or compete at any Big 12 events hosted at BYU would be subject to discrimination since BYU remains exempt from Utah's LGBT nondiscrimination law. Moreover, any student-athlete who identifies as LGBT, and subsequently selects BYU due to its Big 12 membership, would be subjected to BYU's unabashed discrimination," reads the letter.

MORE: Duke to train college athletes in gay rights activism

Further, BYU is accused of being non-compliant with Title IX, as "an institution that openly discriminates against transgender students."

BYU spokeswoman Carri Jenkins pushed back on LGBT groups' fight to block the university's admission into the Big 12 over their religious views:

"BYU welcomes as full members of the university community all whose conduct meets university standards," she stated. "We are very clear and open about our honor code, which all students understand and commit to when they apply for admission. One's stated sexual orientation is not an issue."
As noted by article author Amanda Prestigiacomo, "Clearly, the fact that students willingly attend the university and also willing accept the open honor code is apparently of little concern to such groups.
"Remember folks, tolerance is a one-way street for the left. And if you're going the wrong way, you will be bulldozed."
Brigham Young is a private institution.
MORE: Expelling students in gay relationships could cost BYU law school its accreditation
MORE: Jesus wouldn't wear a 'man bun,' so BYU banned 'em
Like The College Fix on Facebook / Follow us on Twitter
IMAGE: Shutterstock