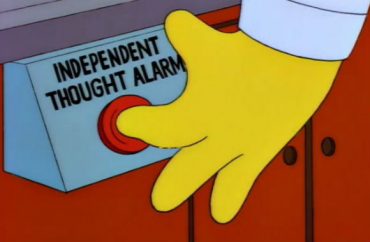 The University of Missouri can celebrate one victory in an otherwise terrible year for the financially struggling school: It's no longer at the bottom of Heterodox Academy's guide to colleges based on their commitment to viewpoint diversity.
The latest HxA guide, released last week, has a wholly unsurprising list of schools with the worst viewpoint diversity among the top 150 in U.S. News & World Report rankings.
On a scale of zero to 100 – the higher the score, the more viewpoint diversity – five schools scored 20 or under: New York University (20), Northwestern (19), Harvard and UC-Berkeley (16) and the University of Oregon (15).
Some schools at the bottom of the list last fall have moved up several points, including Brown and Rutgers (28), while Mizzou (tied at zero with UO last fall) jumped all the way to 33.
DePaul University, perhaps the most speech-hostile school in the country, seems to place higher than Mizzou (35) because it is not rated by either the Foundation for Individual Rights in Education or Intercollegiate Studies Institute. Its score is solely based on "relevant events," which are laid out on HxA's spreadsheet:
At the top of the list, again, no one comes close to the University of Chicago, which leads the next three schools (William & Mary, George Mason, UT-Knoxville) by 17 points.
Princeton remains the only Ivy in the top 25, while Dartmouth has fallen out of the top 50.
Some observations from HxA on the new list:
Scores on liberal arts colleges are generally lower than for research universities. Their smaller size may create stronger pressures for orthodoxy. Nonetheless, the colleges that seem to offer the best hope for encountering viewpoint diversity are three of the ones comprising Claremont-McKenna (Pitzer, Harvey Mudd, and Scripps Colleges), along with Haverford College, and Washington and Lee University.
The Wall Street Journal highlighted the new list last week, including Harvard's low rank (for its "history of censoring outside speakers, a blacklist on private clubs, fraternities and sororities, and a laminated 'social justice' place mat handed out to students before winter break in 2015").
A professor at one of the worst schools told the Journal:
"I think there's a lot of embarrassment on campuses, so some kind of statement from the top might have good-sounding words but actions speak louder than words," said Jack Citrin, a professor of political science at Berkeley. "I'd like to see what happens the next time [conservative intellectuals] Charles Murray or Ayaan Hirsi Ali try to speak on a campus."
Read the new HxA list and Journal article.
MORE: Ivy League scrapes bottom of barrel on viewpoint diversity
Like The College Fix on Facebook / Follow us on Twitter
IMAGE: Frinkiac.com