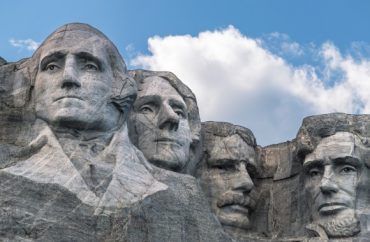 As Americans mark Independence Day, a time to remember and honor the nation's founding, a new report reveals that most top U.S. colleges view teaching students how and why this country was founded as nonessential – even for history majors.
Fewer than one-third of the nation's leading universities require history majors to take a single course in U.S. history, according to "No U.S. History? How College History Departments Leave the United States out of the Major."
The report, recently published by the American Council of Trustees and Alumni, warns that the results are seen in today's young people, who often show ignorance of historical facts and are willing to give up constitutional freedoms: "Historical illiteracy is the inevitable consequence of lax college requirements, and that ignorance leads to civic disempowerment."
ACTA, an independent, nonprofit organization that works to uphold academic freedom, excellence and accountability, found in its survey that only 23 undergraduate history programs at U.S. News & World Report's top 76 universities require any type of U.S. history course.
"The priorities in many social science and humanities departments are misplaced in thinking that understanding how our government developed is an option rather than an imperative," ACTA President-elect Dr. Michael Poliakoff told The College Fix in a phone interview.
ACTA writes that the lack of a U.S. history requirement including any sort of thematic or chronological survey is "a truly breathtaking abandonment of intellectual standards and professional judgement."
MORE: University approves 'history' class that doesn't mention both World Wars
Even at the 23 schools that do require a U.S. history course for history majors, students can meet that requirement with specialized, sometimes bizarre, classes. Examples include University of Connecticut's "Hip-Hop Politics and Youth Culture in America" or Middlebury College's "Mad Men and Mad Women."
"Of the 23 programs that do list a requirement for United States history, 11 allow courses so narrow in scope—such as 'History of Sexualities' or 'History of the FBI'—that it takes a leap of the imagination to see these as an adequate fulfillment of an undergraduate history requirement," the report states.
MORE: New AP History framework ignores religion, snubs Churchill
Poliakoff said college leaders have misplaced priorities.
"Faculty want students to have a broad range of choices but allowing them to select topics in highly specific niches show a shifted focus from complete learning to a sort of self-indulgence," he said.
The report, for example, calls out Yale University for as much.
"Yale University exemplifies this desire to maximize student choice at the cost of essential requirements," it states. "It recently implemented a 'specialist track' that allows history majors beginning with the class of 2017 to forgo a requirement in U.S. history whereas previous students were required to take at least two courses in the history of the United States or Canada. According to the department's website, this new option was 'created in response to students' desire to focus in particular areas of interest earlier in the History major.'"
Meanwhile, many institutions that do not require a U.S. history course specifically require that courses be taken on areas outside the United States.
These courses are also often highly specialized as well, as evidenced by Williams College's "Soccer and History in Latin America," Swarthmore's "Modern Addiction: Cigarette Smoking in the 20th Century," or Bowdoin's "Lawn Boy Meets Valley Girl," the report found.
"A democratic republic cannot thrive without well-informed citizens and leaders. Elite colleges and universities in particular let the nation down when the examples they set devalue the study of United States history," Poliakoff said in a statement.
MORE: Critics — New College-Prep Curriculum Paints U.S. History in Horrific Light
Like The College Fix on Facebook / Follow us on Twitter